Kate Koenig, Staff Writer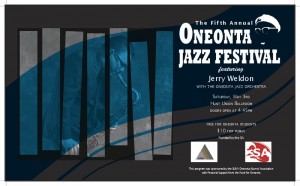 As a cultural center for music and the arts in upstate New York, Oneonta only fills that description further with the still-young institution of the Oneonta Jazz Festival at SUNY Oneonta. The Fifth Annual Oneonta Jazz Festival will take place this weekend on Saturday, May 3 at Hunt Union and Union Square from 9 am to 6 pm, and is an opportunity to gain four LEAD credits. The event is free for SUNY Oneonta students and $10 for the general public.
Hosted by Dr. Art Falbush and the Jazz Orchestra of the SUNY Oneonta Music Department, each year since its inception in the spring of 2010 the festival features a guest artist who has made a name for themselves in the jazz world. This year, the featured artist is tenor saxophonist Jerry Weldon. A well-established jazz musician, Weldon has a reputation for playing with the Lional Hampton Orchestra in the 80s, has worked with Harry Connick Jr. as a member of his big band and has played and recorded extensively with a variety of musicians worldwide. He remains an active member of the New York jazz scene.
Throughout the day, there will be performances in the Hunt Union Ballroom, lectures on the relationship between jazz and society offered in the Red Dragon Theatre from 9:30 to 11:30 am and other unique events:
At 11:30 am, Jerry Weldon will offer a clinic in the Hunt Union Ballroom.
At 12:15 pm, lunch followed by a jam session featuring the SUNY Oneonta New Orleans Brass Band will take place outside by the Hunt Union pond, where all musicians are invited to participate.
At 1:00 pm, there will be a performance by and clinic for the Mont Pleasant Jazz Ensemble, directed by Keith Pray, at Union Square.
At 2:00 pm, there will be a visual jam session at Union Square, described in the program as a "unique model of improvisatory collaboration," in which musicians and non-musicians are invited to participate.
At 4:45 pm, Jerry Weldon will perform with the SUNY Oneonta Jazz Orchestra in the Hunt Union Ballroom.
Eight different student ensembles from around New York State (not including Oneonta groups) will be performing throughout the day, including groups in high school and middle school. Performances will take place at the Hunt Union Ballroom, and will conclude with the main event—a concert by the SUNY Oneonta Jazz Orchestra, directed by Dr. Falbush and featuring Jerry Weldon, as mentioned above.
A day of performance, lectures, lessons and a collective appreciation for jazz, the festival celebrates a genre of music whose definition recalls creativity and innovation, and is also an American tradition. Come out this weekend to experience the excitement and take part in the wealth of music your school has to offer.