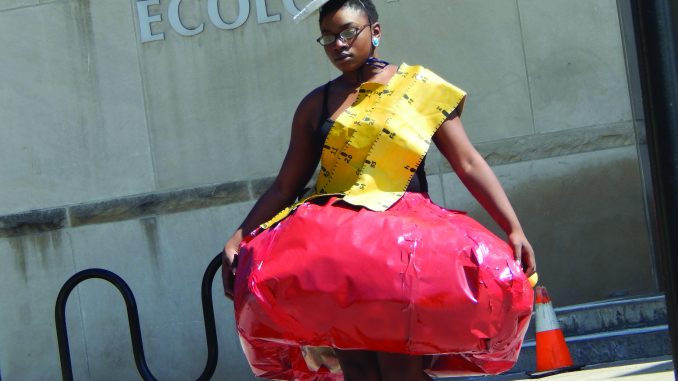 Maggie Burlison, Staff Writer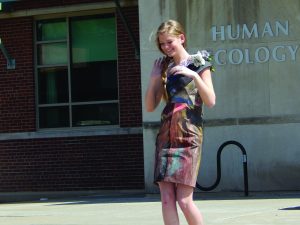 Monday April 21 was not only a warm sunny day, but also the first day of SUNY Oneonta's Green Dragon Week. From April 21 to 27 the Office of Sustainability and the Environmental Club commemorate Earth Day by recognizing and celebrating fresh air and clean water. Throughout Green Dragon Week students are able to take part in a variety of fun and educational activities. A "green" fashion show took place on Monday afternoon at 2 p.m. outside the Human Ecology Building to kickstart the events. The Innovation in Wearable Art class, from the Human Ecology Department, presented "Sustainability in Fashion 2014: Earth Day Fashion Show." The show was held in commemoration of Earth Day and included outfits made only from recyclable materials. Nine students presented their designs during the show and the outfits were modeled by students. The show opened with a warm welcome from Dr. Chiweshe, an instructor of many fashion design classes. After Dr. Chiweshe's introduction, Deonna Spence, President of the Student Fashion Society here on campus, took over. Spence gave a brief background of the class, illustrating how students spend all semester designing and putting together three different outfits. For each outfit student designers had to choose a title, an inspiration and use a variety of recyclable materials.
The show started with designer Kristin Reiser, a senior in the fashion design program. After the show Reiser described the class as "very enjoyable, but also time consuming." Her dedication and hard work paid off though, as her three designs were very impressive. Her first design was titled "A Walk by the Pond." The look was inspired by Claude Monet's "The Water Lily Pond and the Japanese Bridge." The dress was made from burlap, laundry baskets and plastic. For the second outfit, her model sported a dress made from balloons, glow sticks, ribbons and duct-tape. The "Girls Just Wanna Have Fun" titled dress was a hit with the crowd.
Jacquelyn Traynor, another student designer, showcased her dress titled "A Splash of Color." It was made from coffee filters and beads and included bright colors for spring. Traynor was not the only designer to use coffee filters, which seemed to be a popular material used in many of the designs. Crosby Tillman, another designer, also created a spring inspired outfit made from coffee filters and water color paints. Tillman also designed a dress made from Wal-Mart bags. Some other popular materials seen within many designs were magazines and books. Ashley Stiles used magazine pages and shipping tape to create a "Walking Advertisement." Another one of Stiles' designs, titled "Best Seller," included pages from a book and tea bags. Isis Odom, a junior, designed an outfit, "Arriety," which was made to resemble a sewing cushion with pins. With the popularity of Starbucks on campus it was hard to not notice the Starbucks inspired dress made from coffee sleeves, napkins and straws. The fashion show illustrated the students' creativity and talents, while also celebrating Earth Day by including outfits made from only recycled materials. Anyone who attended could easily say the show was fun, fashionable and environmentally friendly.