Hannah Griesel, Staff Writer
Miley Cyrus' image makeover has been years in the making. Since wrapping up her Disney Channel show "Hannah Montana" in 2011, Cyrus laid low for a few months before cutting off her biggest link to the past: her hair. Initial reactions were of confusion, as is evident in the 2012 "International Business Times" article, "Did She Pull a Britney?" Continuing to change her image, she debuted a risqué video for "We Can't Stop" in June 2013, following it with a controversial VMA performance and a video for "Wrecking Ball" that is still being discussed and parodied almost six months after its release.
Cyrus' Bangerz Tour has also gotten attention since it began on February 14. She's made headlines already in her first month of touring by locking lips with Katy Perry and going onstage in her underwear, to name just a few of her many audacious moves. Cyrus starts off her show by sliding out of a giant tongue that's part of a picture of her face. Later, she rides a giant hot dog and gets a bit too friendly with some of her back-up dancers. Some of the most discussed pictures from her performances are of Cyrus wearing a marijuana leaf-printed one-piece and touching herself for the crowd.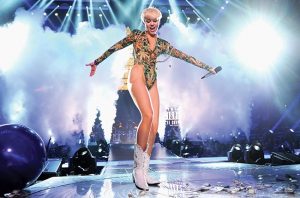 Cyrus' concerts have been met with a lot of community criticism. Outside the Honda Center for her three days of touring, religious protesters held signs saying, "The Teachings of Smiley Virus Will Wreck Your Life," along with other messages. Some parents have listed their tickets on resale websites, while others have contacted their original seller for a refund, based on the type of performance Cyrus has given. One parent, who brought their nine-year-old to the show, called it a "porn show." On Twitter, Cyrus acknowledged the criticisms and wrote, "You can't say I didn't warn you. Now sit back relax & enjoy the show. #bangerztour."
Michelle Ofiwe's review for "D Magazine" noted that despite the heavily visual scenery, Cyrus herself was "the epitome of demureness, smiling and interacting gently in between songs and stage changes." Denise Sheppard for "Rolling Stone" reviewed Cyrus' opening night and applauded her for not singing along to a track of herself, as most stadium performers do, and for nailing the vocals throughout the entire 100-minute show.
Others didn't agree that Cyrus' voice was front and center. In Craig Rosen's review for "The Hollywood Reporter," he wrote, "While it's wildly entertaining, the circus-like atmosphere threatened to eclipse Cyrus' talent at times." This isn't surprising. Since Cyrus' makeover in 2012, much more focus has been put into her themes and image than her raw talent, both by the media and by her own management team. Piet Levy reviewed Cyrus' performance in Milwaukee for "Journal Sentinel," referencing a simple and powerful performance of "Wrecking Ball," saying "perhaps someday, it'll be Cyrus' musical talent that will have people talking."
Cyrus still resents her Disney image, saying in an interview with CapitalFM.com, "I told everyone I wish I could go on my iTunes and start over almost." The only songs from her past that she plays in concert are "Can't Be Tamed" and "Party In the U.S.A."
For students interested in seeing Cyrus' antics themselves, seats are still available for her April 3 show at the IZOD center, as well as her April 5 show at the Barclay's Center in Brooklyn, conveniently falling during SUNY Oneonta's Spring Break. Coincidence? I think not…