Emily Manchester, Contributing Writer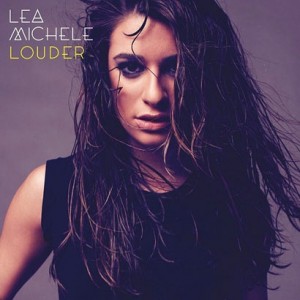 Lea Michele's new album, "Louder," speaks volumes to her gripping and powerful voice. Fans of Michele were first introduced to her through her portrayal of Rachel Berry on Fox's hit television show, "Glee." Compelling vocals and emotional ballads have defined the actress and singer throughout her four seasons on the show. Now Michele has branched out from her role on "Glee," and with the album recently reaching the Top 5 on the Billboard charts, fans have certainly not been disappointed.
The pop album doesn't stray too far from the type of music fans love from the show. "Louder" displays catchy dance beats paired with impressive vocals reminiscent of Katy Perry, heard in the song "Don't Let Go." The majority of the tracks on the album are about relationships, and it's safe to say Taylor Swift has some competition.
Her number one single and the album's opening song, "Cannonball," is an empowering anthem about overcoming obstacles. It's an appropriate opening track in regards to the past year, which has been especially rough for Michele.
"If You Say So" is a moving number on the album as it's a tribute to Michele's late co-star and boyfriend, Cory Monteith, who died in the summer of last year.
Michele revealed in an interview with Teen Vogue that "Burn With You," which has a star-crossed-lovers feel to it with a dramatic flair that her "Glee" character is known for, was Monteith's favorite song on the album.
"Thousand Needles" speaks more of the pain and sorrow Michele feels, most likely in relation to the sudden loss of Monteith.
The title track features a dance-oriented chorus and a dynamic change between verses. The song preaches about coming out of your shell and making your presence known. Michele told Billboard of the song, "It shows off my voice as a singer, which is really important to me."
Yet another song on the album about relationships, "Battlefield" is an angsty ballad that demonstrates Michele's ability to tone down her vocals. This control is a refreshing change from her normal tendency to belt out powerful notes. "Empty Handed" was written by Christina Perri and also portrays a softer side of Michele's voice. The style is similar to Perri's darker trademark tone. The song also includes instrumentals reminiscent of Coldplay.
The bonus track from the album, "The Bells," speaks of the unending ringing that Michele has heard since Monteith's death. The song is sadly appropriate in reference to not only the wedding that was supposed to take place between the two co-stars on the show, but the rumor of the couple's actual engagement.
For her first album, Michele has successfully shown off her advanced vocals and the ability to perform captivating ballads. Although the "heartbreak album" has been done many times before–most recently by Miley Cyrus–"Louder" stands as a promise of Michele's future musical career outside of "Glee."