Richie Feathers, Arts Editor
By the end of Sunday night's 86th Annual Academy Awards, host Ellen DeGeneres' self-penned "best photo ever," taken during the live show, shattered Twitter records by getting re-tweeted over 2.8 million times. Surpassing the previous record-holder of President Obama's famous 2012 picture of he and the first lady embracing after reelection, the instantly-adored group selfie, which included Hollywood giants such as Meryl Streep, Brad Pitt and Jennifer Lawrence, made social media history in a mere 30 minutes. Acknowledging how simple it was, DeGeneres exclaimed, "Everyone's a winner!" Unfortunately for many nominees, the same could not be said of the night's overall festivities.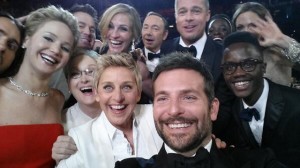 Alfonso Cuaron's "Gravity" left the ceremony with seven of the 10 Oscars it was nominated for, including Best Director. As expected, the film also racked up awards for Best Cinematography and Best Visual Effects, along with Best Original Score for Steven Price. Another anticipated win was Disney's "Frozen," which took home golden statues for Best Animated Film and Best Original Song.
The night's two other big victors were "12 Years a Slave" and "Dallas Buyers Club." The former, a true-life slavery epic that was filmed in Upstate New York, was awarded the night's top honor of Best Picture, as well as Best Supporting Actress for newcomer Lupita Nyong'o and Best Adapted Screenplay. Perhaps the biggest upset, if not surprise, of the night, Matthew McConaughey beat out fan-favorite Leonardo DiCaprio to take home an Oscar for Best Actor for his performance in "Dallas Buyers Club," a film set during the 1985 AIDS epidemic. In addition, Jared Leto won for Best Supporting Actor for the same film, topping fellow nominees Jonah Hill and Bradley Cooper. Although certainly deserved, the domination of these films left little for other 2013 favorites such as "American Hustle" and "Her," the winner of Best Original Screenplay.
Whether viewers' favorites were recognized or not, the overlong ceremony still proved to be entertaining as DeGeneres kept the atmosphere light and fun, ordering pizza for the dolled-up celebrities in the front row. In between the award presentations, a number of musical acts also performed their own Oscar-nominated hits from 2013's top films. Pharrell Williams sang a spirited version of "Happy" from "Despicable Me 2," the Yeah Yeah Yeahs' Karen O and Vampire Weekend's Ezra Koenig did a lovely duet of "Her"'s "The Moon Song" and U2 impressed with "Ordinary Love," their track from "Mandela: Long Walk to Freedom."
In addition, the Academy Awards ceremony recognized the 2013 recipients of the annual Governor's Award, Angela Lansbury, Steve Martin and Piero Tosi, as well as Angelina Jolie, who received the Jean Hersholt Award for her humanitarian work. As expected, Sunday's remembrance of the talented members of Hollywood–both on and off screen–who passed away last year, including the widely-publicized losses of Paul Walker and Philip Seymour Hoffman, was moving.
Overall, Sunday night offered much to enjoy. The 86th Annual Academy Awards may not have presented anything particularly inventive, but it succeeded in recognizing some of the artistic achievements in film in 2013. And what a great year for cinema it was. Only one of the subjects in DeGeneres' selfie may have left with a golden statue, but all of them were smiling, just happy to be surrounded by such talented contemporaries. In that sense, everyone's a winner.