Hannah Griesel, Staff Writer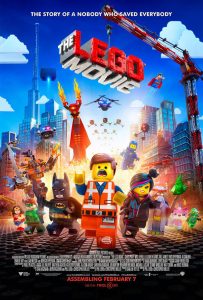 Although many movies based on childhood toys such as "G.I. Joe" and "Battleship" are unanimously considered flops, "The Lego Movie," in theaters since February 7, has broken the chain. The movie grossed over $69 million in its opening weekend and is the second highest February weekend debut, just after "Passion of the Christ." The movie remained on top for the following two consecutive weekends and has earned over $275 million worldwide.
The movie trails Emmet, a Lego construction worker who always tries his best to follow the rules, literally–he carries around a book that outlines rules to live by. He eats his breakfast, watches the all-powerful President Business, laughs at last night's episode of "Where Are My Pants?," enjoys popular music–namely, the catchy "Everything Is Awesome" by Tegan and Sara and The Lonely Island–and goes to work at the construction site.
But one night after his shift, he accidentally stumbles onto the Piece of Resistance, the only object that can stop President Business' plan to freeze the Lego world and destroy life as they know it. Emmet is mistakenly labeled as "The Special," despite being overwhelmingly ordinary, but learns throughout the movie that he wants to be unique and that everyone has the ability to be special.
In Susan Wloszczyna's review for RogerEbert.com, she describes the movie as a "smartly subversive satire about the drawbacks of conformity… while celebrating the power of imagination and individuality." She acknowledges that the movie is indeed advertising the Lego products, but it's worthwhile because it is "highly entertaining." Owen Gleiberman for Entertainment Weekly notes that the film is "10 times more clever and smart and funny than it needed to be."
"The Lego Movie" has received almost exclusively positive reviews, though some criticized the film for its lack of female characters. Additionally, in Laura Levy's review for Chicago Now, she goes on to explain her problem with the LEGO brand. She writes that the movie encourages free play and creativity with Legos, but the only sets she finds in stores are ones that have a specific mission to build only one item, or blatantly gender-specific products.
Heading into the movie, I was nervous that I'd find myself sitting through a 100 minute-long advertisement but was pleasantly surprised. The movie quickly introduced a humor that had both children and adults in the audience laughing and kept them thoroughly entertained throughout the entire film. Fans might have to wait some time for the sequel, but it has already been announced that the second movie will be released on May 26, 2017.