Aliya Ladha, Contributing Writer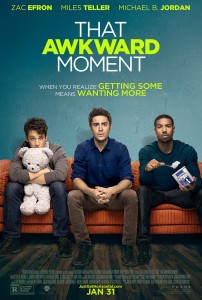 Formerly featured in the 2010 Hollywood Black List of best un-produced screenplays, "That Awkward Moment" was released on Friday, January 31. The movie features three best friends played by Zac Efron, Miles Teller and Michael B. Jordan. They make a pact to not fall in love and to use their youth to strengthen their friendship.
The screenplay was originally titled "Are We Officially Dating?" It ranked in the top comedies on the Hollywood Black List. Like "Juno," "Slumdog Millionaire" and "Argo," which were all on the Black List at one point, this movie also showed high potential. Having produced only one other film ("Movie 43") before, Tom Gormican made quite a splash in his directorial debut with his own screenplay, "That Awkward Moment." Gormican admits to being inspired by Shakespeare's "Loves Labour Lost." Former Disney star Zac Efron, who also shares production credits for the first time, was first to be casted. Mackenzie Davis and Imogen Poots both provided strong female forces to drive the movie. Miles Teller played the goofy best friend and Michael B. Jordan was the more mature male figure, making the movie more dynamic. This romantic comedy lit up the screen on Friday with a great cast and a great plot, but did not fulfill box office expectations. The movie came in third place behind Ice Cube and Kevin Hart's "Ride Along" and Disney's "Frozen," respectively. Most of the pre-release audience predicted the movie would generate anywhere between $10 million and $12 million, but the movie fell short, only producing $8.7 million.
Is the movie about falling in love, or patching up a bromance through the years? Three best friends, Jason, Mikey and Daniel decide to stay single to help Mikey feel better after a bad divorce. The three go to bars to flirt with all the good looking girls, play video games on guy night and get as many non-bonding hook-ups as possible while juggling work, life and family. The movie supplies a lot of simple, mostly perverse humor. Many critics said the movie might be a huge cliche since right when they make the pact, the perfect girl walks in and turns everything upside down. All three characters hide their relationships from each other to pretend they didn't break the promise, but this leads to disaster. They learn what relationships need, how to grow up while having fun and what matters most in life. "That Awkward Moment" emphasizes the need for support from friends—whether man or woman. Despite the fact that the movie may indeed be a cliché, it displays many dynamics of modern relationships. The need for thrill, support, commitment and friendship shines through in this movie, but most importantly it answers the question: Can guys fall in love?
Every man knows it's hard to leave behind the video games in the day, parties at night, hook-ups all around lifestyle, but once they taste love will it be any easier? This funny, romantic film leaves behind a heart-warming message just in time for Valentine's Day.