Richie Feathers, Arts Editor
In the two year span between 2009 and 2011, Bombay Bicycle Club went from rowdy post-punk indie rockers on I Had the Blues But I Shook Them Loose to the convincing folk soul-searchers of Flaws before settling as polished alt-rock darlings for A Different Kind of Fix. This chameleonic behavior boasted a diverse set of musical chops for the London four-piece, but also exposed an uncertainty of who they wanted to be as a band–one that had garnered initial acclaim before even graduating upper secondary school. Yet, it appears that the recent, longer hiatus between Bombay Bicycle Club's third and fourth albums was the push the band needed as this year's So Long, See You Tomorrow is both a masterful blend of their previous identities and an immensely exciting and bold step forward.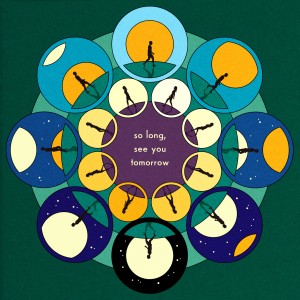 Having written the new record while traveling through parts of Europe, Turkey and India, frontman Jack Steadman coalesces numerous styles and sounds to produce a unique display of restless electro-pop. Album opener "Overdone" is the perfect example of their newfound intrepidness as commanding percussion mixes with a fervent electric guitar amid swirling, cinematic strings. Lead single "Carry Me" utilizes a sputtering drum track and horn section with synth lines gliding in and out of focus, creating an impossibly propulsive hit. But the most evident example of Steadman's adventures abroad is "Feel," a Bollywood-meets-Latin America hybrid in the guise of a catchy modern dance tune.
Despite this kaleidoscopic palette, the vocalist's delicate tenor successfully adapts to every song. He's self-assuring on the sprawling "It's Alright Now" and reassuring on the synth-heavy "Come To." Yet, many of the album's high points arrive when Steadman is joined by budding English singer/songwriters Lucy Rose and Rae Morris. Rose lends her vocals to the especially lovely "Home By Now," a yearning, downtempo detour in oriental keys, shimmering synths and multiple drum tracks, and the sparse piano ballad "Eyes Off You" that crescendos to a climactic declaration of "I can't be sad." Elsewhere, "Whenever, Wherever" marries sparkling piano to a bright, chugging synth rhythm over a hip-hop beat, to wondrous effects.
But the gem of So Long, See You Tomorrow is also perhaps its most straightforward. "Luna" is a glorious slice of electro-pop, a tabla-sampling beauty with vocals from Steadman and Morris soaring over a jittery new-wave groove.
With full production credit as well, Bombay Bicycle Club's fourth album is ultimately a personal statement for Steadman. He writes of wasted time, wasted opportunities and wasted love, evolving from a man filled with regret to one finding release and eventually redemption–further indication of the impact these past few years have had on him. What the album occasionally lacks in stylistic cohesion, Steadman redeems by translating his global escape into a language that everyone can understand.
As the sound of a band finally coming into their own, the album showcases Bombay Bicycle Club's penchant for risk-taking and the compelling future that's awaiting them. So Long, See You Tomorrow is a thrilling journey through electro-pop at its freshest and finest. It's a trip worth taking.
Key Tracks: "Luna," "Home By Now," "It's Alright Now"
Grade: A-