Taylor Hoysradt, Staff Writer
Christian metalcore band For Today has made a name for itself over the past few years by playing their own punishing style of metal containing bass drop breakdowns, loud production and the charismatic vocals of frontman Mattie Montgomery. For Today is also well known for its lyrics, which follow the theme of Christianity and all of the ideals that come with it, ranging from unity, faith and sometimes declaring war on the "false gods" and non-believers. The band came under fire in 2013 when then-guitarist Mike Reynolds made anti-gay remarks on Twitter and denounced homophobia as a sin. The group later apologized for Reynold's remarks.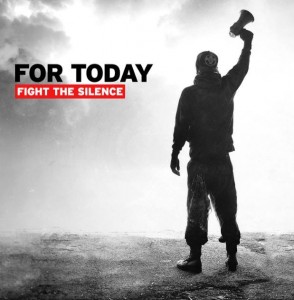 Fast forward to 2014 and we see For Today taking an if–it–ain't–broke–don't–fix–it approach to their new album Fight the Silence. The album contains the band's go-to formula, including downtuned chugging riffs, bass drops and loud drums that for the most part harmonize with the guitars. Montgomery continues his strong, almost preacher-esque vocal style that certainly shines in songs like "Fatherless," "A Call to Arms" and the title track. While his vocals don't fail to get the listener pumped, I would like to see Montgomery try to develop more of a range in the near future because his voice is starting to become too monotonous for my taste.
One relatively new addition to this album is a more prominent clean vocal role by long time guitarist Ryan Leitru. Leitru has a unique and deep singing voice that isn't heard too often in metal today and I think that it was a good move by the band giving him a bigger role this time around on songs like "Fatherless," "Fight the Silence" and "For the Fallen."
Another strength of Fight the Silence is that this is simply a heavy record. For Today have thrown out their typical spoken word tracks from previous albums and delivered an album that is loud and punishing from start to finish. Despite the strengths of "Fight the Silence," this approach, which they have taken with their last three albums, is starting to grow old for fans and ultimately leaves the listener wanting more from the band.
With that said, if you are looking for your For Today fix and still enjoy their style you certainly won't have an issue with Fight the Silence, but casual listeners will probably want to avoid this one.
Score: 3 out of 5
Recommended Tracks: "For the Fallen," "Fight the Silence," "Fatherless"