Taylor Hoysradt, Staff Writer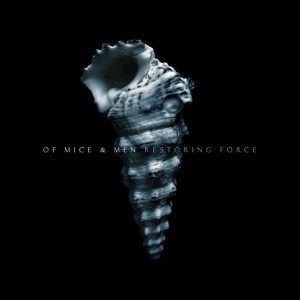 For the most part, Of Mice & Men have been known as just another run-of-the-mill metalcore band that relies too much on single note breakdowns, electronics and whiny, clean vocals. With their new album Restoring Force the band finds itself taking a completely different approach to their songwriting and has created a record that will push them away from the crowded and redundant metalcore genre.
The songs on Restoring Force are more structured and have deeper meanings–the main focus is overcoming life's twists and turns–than their previous works. The vocals of frontman Austin Carlile are more polished. He has now incorporated nu-metal elements into his screaming that are reminiscent of Corey Taylor of Slipknot, which is never a bad thing. The clean singing has also been revitalized with the addition of ex-Jamie's Elsewhere singer, Aaron Pauley. Pauley boasts an impressive vocal range, giving him the ability to produce choruses like the extremely catchy rock hook in "Would You Still Be There" and the angst-ridden, high-pitched chorus of "Another You."
Along with the improved vocals of Carlile and Pauley, the band's instrumental approach has been revamped to a more nu-metal sound with fat rock riffs, lower tuning and drums that focus more on groove instead of matching the chugging patterns of the guitars. This new sound is what makes this album so good because it is a breath of fresh air compared to the sometimes-monotonous instrumentals found on the band's previous two albums.
Throughout its 11 songs, Restoring Force contains a variety of subgenres and styles, from heavy tunes like "Public Service Announcement" and "You Make Me Sick," to heartfelt ballads "Another You" and "You're Not Alone," with even a spotless electronic vocal piece "Space Enough to Grow." Of Mice & Men wanted this album to be deeper and more meaningful, which is reflected in its lyrics. The chorus of "You're Not Alone" is a call to anyone who is going through a difficult time, stating, "Don't let the world bring you down/There's always hope for the willing." "Another You" is for those who have lost someone important, with the chorus, "Say anything that could make this all okay/Take away all of this emptiness I feel/Cause I will never find another you."
Don't let the deep, angst-filled lyrics fool you, Restoring Force is an in-your-face and passionate metal record that will be known as the album that helped Of Mice & Men find their sound and mature as a band.
4 out of 5 stars
Recommended Tracks:
"Would You Still Be There," "Feels Like Forever," "Identity Disorder," "You're Not Alone"