Richie Feathers, Arts Editor
As far as dysfunction goes, no one on television is currently doing it better than the Gallaghers, the Chicagoan family at the center of Showtime's hit series "Shameless." Based on the long-running British comedy of the same name, the American version blends dark humor with contemporary social issues, creating a wild, unpredictable and always endearing hour of television.
William H. Macy plays Frank Gallagher, a father of six whose debilitating preference of alcohol over affection has left his oldest daughter Fiona (a mesmerizing Emmy Rossum) in charge of raising her siblings: delinquent genius Lip, in-the-closet Ian, responsible Debbie, unruly Carl and toddler Liam. Along with a host of vivid supporting characters, "Shameless" paints a colorful story about a resourceful family trying to survive and make ends meet in a harsh world.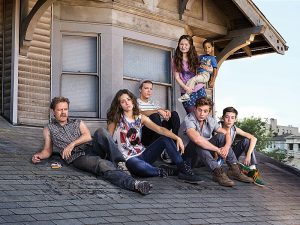 The writers and actors deal with difficult and controversial topics, including poverty, homosexuality and alcoholism with deft realism and grit, always choosing sincerity over self-righteousness. That being said, they know when to step back from their overt seriousness as these issues are often presented in entertainingly uncouth situations that leave little to the imagination, and always live up to the show's namesake. "Shameless" is raunchy, unapologetic and also wonderful.
The premiere of season four however, presented a different side of the Gallaghers. Whereas the second season opened with Frank trying to scrape up money to pay off thugs who used Liam as collateral, and season three found him as a drug mule making his way home from a drunken few months across the Mexican border, this season started with a comparatively tamer plot. While it's by no means suddenly suitable for children, season four picks up right where the third left off. And for the first time, the Gallaghers seem like a "normal" American family: Fiona is excelling at her new job, Lip is trying to adjust to college life and Debbie and Carl are both in the throws of puberty. But, although the episode succeeded in its reintroductions, the calmer tone took some viewers off-guard.
Yet, the mood felt completely deserved and natural. It's been three years since "Shameless" started and it is rewarding to see the show get to grow with these characters. And their recent developments simply make sense. It makes sense that Fiona feels bored by the structure of her new, "normal" relationship, that Lip is struggling with overestimating his academic ability, that Frank has turned to harder drugs now that his alcoholism is finally killing his liver.
Along with the new steady flow of income, another change that made the episode so intriguing was its format which focused on each of the Gallaghers individually; "Shameless" has before always required the siblings to work together to pay bills and put food on the table. As a result, it also makes sense that because Fiona can now support her family, they might not have to rely on each other as much, offering the show many new directions to take and the characters much more trouble to get into.
This dynamic foresees a different but exciting season of "Shameless" ahead, albeit one whose, knowing the Gallaghers, serendipity is likely to be short lived. But, as Fiona once said, "there's two things that we're really good at: knowing how to get back up and knowing how to party." And both of these extremes get plenty of focus on a show that celebrates the meaning of family, no matter how dysfunctional.