Richie Feathers, Arts Editor
To summarize the impact of Lady Gaga's reign over these past five years, one need only compare 2008's cheeky declaration of riding "disco sticks" to this year's blunt, shrugged-off, "When I lay in bed I touch myself and think of you." What once turned heads in pop music is now commonplace among firework bras, defiling construction equipment and meat dresses, and the only way to stay relevant is to prove yourself more outrageous than the next.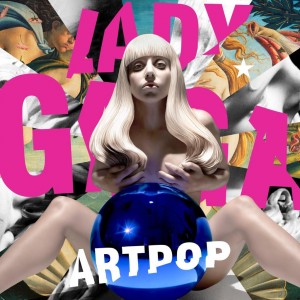 With a refusal to be ignored, Lady Gaga has been the constant, obvious pioneer of this new pop culture, garnering a viciously devoted fanbase and carving out the position as a queen among princesses. Yet, instead of coasting along on generic Billboard hits, Lady Gaga (born: Stefani Germanotta, 27) has followed her genre-bending debut "The Fame" by continuing to challenge listeners with each subsequent release; 2009's diversely enjoyable "The Fame Monster" and 2011's masterful "Born This Way."
And the new ARTPOP ultimately establishes itself as a worthy addition to her catalog of revolutionary pop.
"I killed my former," she confesses on the rapid, densely-layered opener, "Aura." And while this might suggest a bold reinvention of herself, the album sees its creator try on numerous personas, styles and genders before finding a match in one that's already been worn in: the devotee to her art. This is most notable in the title track where she explains, "I try to sell myself/But I am really laughing/Because I just love the music/Not the bling."
The search for this identity however, is an hour-long meditation on solar systems, sex positions and society; and that's just on the first half. Throughout ARTPOP, Lady Gaga glides from electronic club jams ("Venus") to industrial disco ("Sexxx Dreams") and techno ("Swine"), while mixing in her signature theatricality.
This sheer commitment to every piece of music she touches remains apparent on the new album. As a result, when the characters she inhabits don't work as well, as on her foray into hip-hop dominatrix on the clunky "Jewels N' Drugs," they sound like undercooked experiments rather than outright failures.
That being said, it's the moments when she steps away from her thespian role that truly shine.
ARTPOP's best track, "Do What U Want," a gleaming collaboration with R&B artist R. Kelly, finds Lady Gaga in a more subdued, natural performance. This excellent slice of pop music stands stark among many of the other tracks, whose production is so meticulous it has a tendency to leave little breathing room for the listener. But Lady Gaga's eternal focus on crafting a cohesive record rather than a string of hits pulls every tiny detail together to form one messy, uneven, wonderful album–a skill from which its title derives; art's imperfections married to pop's calculated formula.
ARTPOP ends with lead single "Applause," where she shamelessly proclaims, "I live for the applause." Although some may deem this a mere statement of an obsession with fame, it works as both the climax of and resolution to an album that examines the most influential pop artist of this generation.
Lady Gaga may spend much of ARTPOP morphing into different skins, but by its finale she confidently returns to the familiar: an artist, idol and innovator.
Key Tracks: "Do What U Want," "Applause," "Gypsy"
Grade: B+