Sarah Meltzer, Contributing Writer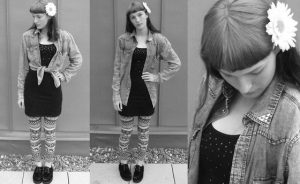 Shopping in the mall, you see the cutest skirt in the window. It's, of course, cheetah print and right next to it is the flashiest purple sequin top. But wait, there is no way you are leaving the store without purchasing that floral dress. Although they are all very stylish options, how are you supposed to re-wear these garments at a later date? You certainly can't combine the separates (talk about clashing) and such memorable pieces are easily recognizable if worn too soon after. This is when the system "reuse and recycle" comes in. No, we are not talking about the environment; we are talking about your wardrobe. This is the best way to save money while remaining a fashionista and it's an extremely simple process. You only need four basic garments that are most likely already in your closet: a body-con dress, high-waisted skirt, crop-top and leggings. These four basics can easily be combined to create three different looks and could even be paired with other basics for endless possibilities.
Let's start with the body-con dress. As we all know, this is the perfect option for a night out with the girls. But did you ever think to throw a crop top over it? This simple alteration turns the dress into a completely different look, giving the illusion that it is actually a skirt. Not only can this be an attractive new option, but it has other advantages as well. Having the dress under your crop top makes it impossible to have your stomach showing. Popular views might be that revealing skin is sexy, but the truth is that less skin is classier.
Friday night is over and you are rummaging through your wardrobe for a new look for Saturday night. By reusing the body-con your problems are solved. Rather than adding the crop top, throw on the high-wasted skirt and create a new illusion. Now the dress appears to be a shirt, tucked in. With a little accessorizing, your friends will never know that it was a recycled look. However, the possibilities do not end here. We can once again use this slimming dress to make a more casual statement. With the effortless decision to add leggings, this club-friendly dress is transformed into a sassy city look. All you have to do is add that leather jacket and scarf, stored in the back of your closet. Just throw on those knee-high boots and go shopping for more basics to be recycled.
Buying basics is the best way to save money and look fashionable. They are easily recycled into new looks with simple additions. It is so exciting to try new combinations, so don't be afraid to mix patterns and textures— fashion is supposed to be fun. Take risks and be fierce because as long as you feel good about yourself, others will be able to see how confident you truly are.