Richie Feathers, Arts Editor
There is certainly no shortage of talent at SUNY Oneonta. With its modern resources and artistic focus, many creative students have been able to form plenty of exciting and skillful musical acts. This is no more apparent than with the up-and-coming rap duo of Connor Craves and Mike Lovaglio, under the moniker Young Republicans. Last week I got a chance to sit down and talk with them (Mike via Skype) about how they got started and where they want to go. Among other topics, our conversation touched on the prerequisite that every rap group has a three-letter abbreviation, how Madonna is "the shit" and why rap can't be faked.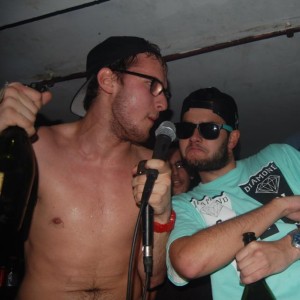 Although Connor (an elementary education major) and Mike (a recent graduate with a sociology degree) have only been rapping together for about three years, they seem like they've known each other for many more. After hearing through a mutual friend that the other could rap, they both knew they had to meet up and challenge each other. As it turned out, the two of them found many similarities in each other's musical interests and styles; an ironic discovery considering how different they are.
"The first time he pulled out his notebook it was busting at the seams with napkins and scraps of paper," Connor recalled of their first collaborative meeting. The vast wealth of lyrics that Mike (who goes by the stage name $kim Milk) had been collecting since he was sixteen came as a surprise to Connor, who preferred to keep a computer folder of his own lyrical snippets. "We're both kind of polarizing," he continued, "Mike's more intellectual and is better at taking it seriously." Turning to Mike, "I think you're really good at putting your heart into the music, and it projects, which is awesome."
Connor described himself as a big science fiction fan. Mike explained that he's "a lyrical mastermind because he's one of those rappers who pulls out a lot of pop culture references."
"It's better that we describe each other," Connor laughed.
At the start, the Young Republicans, a name derived from the abbreviated G.Y.P. for Grand Young Party (a play on the political G.O.P.), freestyled over well-known hip-hop beats. But soon enough, they evolved to working with friends who had their own beats for a more original sound. Their live shows have also grown alongside their style.
"Right now we play primarily at house parties and that's the raw roots kind of hip-hop we like; you get everyone circled up and we just go in and go wild," Mike explained. Their live shows are one of a kind and a major reason for the group's popularity, with everything from 40s, moshing and even "twelve joints in a pail" being commonplace.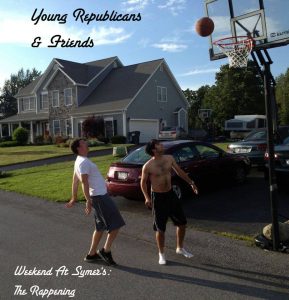 Their most recent release (2013's "Weekend At Symer's: The Rappening") however, exhibits a less urgent but equally enticing sound. With production credits from DJ Funny Bunny Slippers, Krazy Fresh and Upsidedown American Flag, the mixtape blends traditional hip-hop beats with synthesized atmospherics and vocal samples. Connor was also quick to describe their music as "progressive." Although their raps often discuss "women and the partying scene," Mike explained that they "like to bridge that not so serious stuff with the serious and philosophical, because there's got to be a balance. That's what life is all about."
This stability of the two sides of seriousness can be traced back to their influences. Most apparent, Mike ranks hip-hop artist Ab-Soul among his top five. "I like my style to go kind of like his. He can go into a complete party song and the next thing he's talking about his third eye."
To Connor, Madonna is the ideal portrait of how to define the sound of a generation. He also counts MF Doom, saying that he "is the greatest rapper who ever lived. Period," and John Williams as his unabashed wild card influence.
The Young Republicans also are influenced by their previous show mates, the middle-aged, Brooklyn-based pop-punk band The Challenged. "If that's what our career could be like I'd be down, because they just work regular jobs. They're regular people, and then they go on tour," Mike said. "Obviously we want to be opening up for Kendrick [Lamar] or Kanye, but right now I just want to branch out, possibly do shows in the city soon." Connor added, "Realistically, we're going to keep doing it cause we don't really have a choice; doing shows is so fun."
They're currently looking forward to an Oneonta hip-hop showcase that's in the works for next semester. As for their next mixtape, Mike assured that they'll have something coming out soon and will continue to work with friends: "It's more organic when you do it with people you know, it has a more grounded, awesome sound."
This inclusion of fellow musical artists and producers, both from Oneonta and elsewhere, is further proof of the genuine nature that both Connor and Mike expressed throughout the entire interview; a nature that Connor understands to be the key to music's influence. "You don't even have to have the best flow. But if your soul projects and you're expressing yourself really genuinely, you'll never sound that bad."
The Young Republicans undoubtedly do this. As Connor put it himself, "It's money; we're a cash money combo. We're very different dudes. The wrapper is different but the candy is the same." Pun initially unintended.