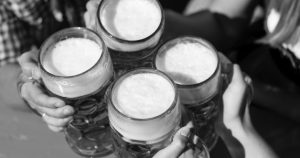 Daniella Sannuti, Staff Writer
When the words Christianity and church come to mind, one of the last things people will associate with them is beer. However, at one congregation in Fort Worth, Texans seem to think differently. Every Sunday evening, as many as 40 people gather at the brewpub Zio Carlo to drink beer, order pizza, have fellowship and even communion. With the decline of interest in younger people going to church, this is one idea to get them interested.
Pastor Philip Heinze told NPR, "I'm interested in having people have significant relationships around Jesus. And if it turns out to be craft beer, fine."
This church seems to be like any other; the members are inviting and just want to share the gospel of Jesus. The only difference is that their house of worship is in a bar and they happen to drink beer. When imagining these fellowships, don't get confused with picturing a Saturday night out in Oneonta with your friends. With a strict two-beer policy, members of the church aren't focusing on drinking beer as much as on the word of God. One benefit of the church being held in a bar is unintentionally attracting people to that night's message. Some bar-goers just head out without realizing they stepped into a Sunday night service, and end up getting something more. This way of preaching to others may seem taboo, but it's working. In Portland, Oregon, a church is taking notes of this edgy mission by opening the doors of a parish hall for an event called "Beer & Hymns." Once a month on a Saturday night at least a hundred young people show up to drink beer and sing traditional hymns.
While it isn't gaining enormous amounts of attention right away, holding church service in a pub is getting increasingly popular. One Irish pub in NYC is even the home for Theology-on-Tap, a group that talks about eternal life and false prophets.
What some people do not realize is that beer and religion have a strong history together. In fact, Paulaner monks in Germany have been brewing heavy malty beer as far back as the 18th century. These monks would use the beer for nutritional purposes during their 40 day fast for lent. Also, Arthur Guinness, the creator of Guinness beer, was actually a devout Christian who used the teachings of God hand-in-hand with his business. All in all, maybe it isn't that unthinkable to associate beer with the church.