Elizabeth Raphaelson – Managing Editor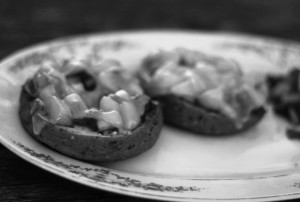 It's pear season here in New York, folks! They're cheap, juicy and local and I have been trying to sneak them into almost all of my recipes for the past two weeks. This chutney is awesome because not only does it contain a seasonal fruit, but it uses a college student staple: Siracha hot sauce. If you aren't familiar with this zippy condiment, I'd like this to be the recipe that changes things for you. Seriously, things might get weird in your food life after this (I won't judge you if I walk in on you eating cheerios slathered with the spicy red nectar)… Any "New Girl" fans out there perpetually hearing Schmidt's voice over enunciating "chut-uh-nee?"
What you need:
1 cup chopped red onion
1/3 cup packed brown sugar
1/4 cup raisins
1/4  cup of garlic rice vinegar
1/2  tsp. Sriracha
1/4  tsp. cinnamon
1/4  tsp. cloves
A dash of granulated orange peel
3 cups chopped pears
What you do:
Mix all ingredients, except for the pears, in a small saucepan. Bring mixture to boil, then cover and reduce heat to simmer for five minutes. Cool for ten minutes. Place in bowl and stir in pear.
I made a delicious open-faced sandwich with this seasonal chutney by toasting an everything gluten-free bagel (you can obviously substitute a normal one), spreading on chutney and melting swiss cheese on top. It tastes particularly good with hard cider and emotionalism.