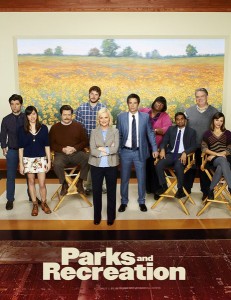 Tracey Cheek, Staff Writer
One of television's most loved, heart-warming comedies returned Thursday night, September 26, with the hour-long premiere of NBC's "Parks and Recreation." Season five left viewers hanging with so many questions. Will Ron Swanson make a good father figure? What will happen with Anne Perkins and Chris Traeger? And most importantly, how will the company manage without being able to make fun of the loveable Jerry Gergich every day?
The sixth season of "Parks and Recreation" started off with a trip to the infamous fourth floor of the government office. The fourth floor is home of the good and the bad—probation offices, the DMV and the always-delightful Ethel Beavers. Here, amongst several other scenes, we see the masculine Ron Swanson being happy and giddy like never before. This carries on later when Ron gives into going to London with the rest of the department so that Leslie Knope can receive an "International Coalition of Women in Government" award. This ceremony is where we see guest star Heidi Klum appear to receive an award as the mayor of Denmark.
Being this far into the series, each character has a subplot of their own. Tom Haverford is busy with his new "Rent-A-Swag" business. He is called into a fancy business meeting with high expectations, but gets a reality check when someone else comes along to steal his idea. Now Tom has to come up with a new plan to keep his beloved company "Rent-A-Swag" above the competition.
The happily married couple Andy and April also find themselves traveling to London. "I can't believe we're at Hogwarts!" lovable Andy proclaims as they approach Buckingham Palace. Ben Wyatt and Andy are looking to get sponsors for their charity, where Andy meets his British counterpart. Andy and "His Royal Excellency, Lord Edgar Derby Covington, 14th Earl of Cornwall-Upon-Thames, 29th Baron of Hertfordshire" aka Eddie, kick it off immediately by playing with toy helicopters. Afterwards, Eddie invites Andy to stay in London and help him expand the nonprofit for Andy and Ben.
Anne Perkins and Chris Traeger find themselves entangled once again. After looking around for a proper sperm donor, Anne and Chris reach the decision that they are the right ones for each other. This is setting us up for the sad reality that Rashida Jones and Rob Lowe will be leaving the "Parks and Recreation" cast in the middle of this season, after being cast members for five and three years, respectively.
NBC's "Parks and Recreation" is simply a great, endearing comedy. There is a constant emphasis on friendship and love between the characters, even when things are going terribly wrong, which is more often than not. Leslie Knope will forever be trying her hardest to win over the remarkable people of Pawnee, Indiana. The "London" episode was an excellent kick off for season six, and as always, "Parks and Recreation" will leave us laughing out loud and waiting for the next episode.