Richie Feathers, Arts Editor
In 2009, radio stations played the Black Eyed Peas' "I Gotta Feeling" on loop, Taylor Swift hadn't gone completely pop yet and a little power-ballad called "Use Somebody" ruled the airwaves. Making history and breaking records, the yearning, arena-sized love song even reached number 4 on the Billboard Hot 100 chart, and no one seemed more surprised than Kings of Leon themselves. Deeply rooted in southern religion and rock, the three brothers and their cousin (Caleb, Nathan, Jared and Matthew Followill) weren't expecting to find success in such a polished song as "Use Somebody," even after the acclaim of previous hit "Sex on Fire."
But a lot has changed si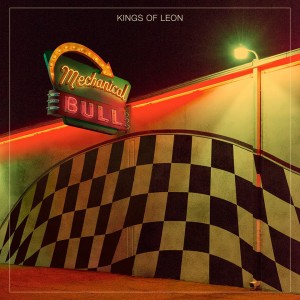 nce 2009, and Kings of Leon have recently become better known for a 2011 tour stop in Texas, where singer Caleb performed a set highly intoxicated and left the stage without returning. This was followed by a cancellation of the remainder of the tour and the announcement that they'd be going on hiatus. Many people saw this as a sign that maybe the band couldn't handle their recent success. Yet, Kings of Leon showed no desire of ending their career and have returned with "Mechanical Bull," a clear indication that a break was perhaps all they needed.
Sounding strikingly like their earlier material, it's not an accident that this album veers almost completely away from 2008's glossy "Only By the Night" and 2010's darker "Come Around Sundown." Instead, "Mechanical Bull" finds a band more loosened up and ready to move on from the past four years. Although the four Followills liken it to a combination of 2003's "Youth and Young Manhood" and 2007's "Because of the Times," the new album often recalls the practiced energy of 2004's "Aha Shake Heartbreak." First single "Supersoaker" opens the album in a less thematic manner than "Slow Night, So Long" of "Aha Shake Heartbreak," but proves to be just as effective with a big chorus and shiny hooks intact. "Temple" finds a youthful-sounding Caleb singing "I've got my hands in my pocket/And I'm crossing my fingers."
In fact, for all its sonic similarities, "Mechanical Bull" differs from all of the band's previous albums by putting more of a focus on the lyrics—many of which confront their recent headlines and personal struggles. "Rock City" shows a restless Caleb "searching for something/But never finding something" and "Tonight" offers a late-album crescendo where he pleads, "I don't know why I keep acting this way/Give me something along the way." But the most obvious indication of maturation comes in the aptly-titled "Comeback Story," where the singer admits that sudden fame came on a bit too strong, but amid pedal steel and a prominent string section that, "I did my best to be an honest man/The race isn't over til the finish line/It's a comeback story of a lifetime."
Unfortunately, this mix of youthful rock and self-improvement doesn't always work for Kings of Leon, and the record rarely catches the same vibrancy of their earlier albums. However, by referring to their past they're looking to the future, and "Mechanical Bull" certainly foreshadows a bright future still ahead; a comeback story, indeed.
Key Tracks: "Wait For Me," "Supersoaker," "Rock City"
Grade: B