Ben Winters, Staff Writer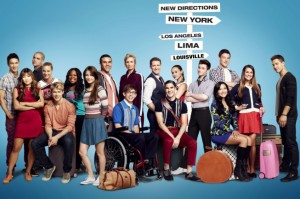 After the unexpected death of Cory Monteith this July, questions arose about the future of "Glee." Monteith's character, Finn, was the lovable quarterback who could play drums, sing and always lead the New Directions to victory despite great adversity.
Towards the end of last season, he was set up to go to college to get his degree and help take over coaching the show choir group he was in just years earlier. Unfortunately, before he was able to shoot for this upcoming season, after coming out of rehab, he passed away due to a drug overdose.
For the season five premiere, countless eager Glee fans awaited to see how they were going to deal with Monteith's death in the show. Met with great frustration and confusion, not so much as a black screen with a dedication or "in loving memory" was shown. His complete absence was noticeable, yet too easily overlooked. Ryan Murphy, creator of "Glee," has announced that the third episode of the season will be a tribute to Monteith.
The first two episodes are a tribute to The Beatles — a risky endeavor. They pulled it off with class and respect while adding their own touch. The episode starts off with Rachel's callback to the Broadway show she's been waiting to audition for since she was five years old. She finishes acting and later overhears a conversation that leads her to believe she did not get the part. She sings "Yesterday" beautifully, which serves the sole purpose of showing her despair about not getting the part, as well as perhaps paying homage to her real life ex-fiance Monteith.
The main plot line that ties the episode together, however, is Blaine's marriage proposal to Kurt. The last frame of season four was after the New Directions won regionals. They were all in a circle celebrating and as the camera zoomed out, viewers saw a ring box in Blaine's hand. In the beginning, Blaine and Kurt are sitting on the high school's steps when Blaine (dressed in his signature tight bright pants, matching polo and bowtie) tells Kurt he's prepared a song for him. When everyone expects a large proposal here, Kurt interrupts him to sing his own song. "Got to Get You Into My Life" becomes a duet between Kurt and Blaine, accompanied by the McKinley High School Marching Band. Now with more time before the proposal, Blaine sings "Help!" with the New Directions in an adorable scene where he gets the three rival Show Choir groups to come together (no pun intended), to help him sing for his proposal to Kurt.
The culmination of the episode is set at Dalton Academy, the school where the two first met and Blaine attended before transferring to McKinley High School. Kurt's father takes him to the beautiful mansion where the fictional private school is held. With hundreds of voices backing him up, Blaine sings "All You Need is Love" to Kurt as he is walked throughout the place. Family, friends and the other vocal groups surprise him, and as he walks down the stairs, Blaine is waiting. With a beautiful and heartwarming speech, he proposes to Kurt — who says yes.
The one thing missing at the proposal was the presence of Finn, who is Kurt's stepbrother on the show. His unexplained absence was as loud as could be. As devastating and difficult to deal with as it is, it's hard to criticize the creators for the lack of inclusion until his tribute episode. They needed to move on and start the season off with happy, love-filled scenes to honor him and stay true to the show. With one more episode before Monteith's tribute episode, the season will get heavy quick. But as in the first episode as well as the second and surely the tribute episode, love will be all around.