Kimberly Wakefield, Contributing Writer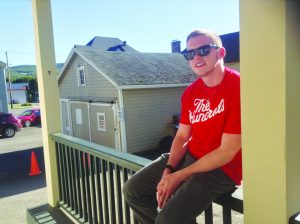 Every day I try and dig up new music because enough is never enough when it comes to finding new artists. Hailing from SUNY Oneonta, Timothy Hunt, AKA Tim Terner, is hip-hop's next extraordinaire! His music incorporates a unique style and twist. It isn't something you just listen to. Sure, you can put it in the background of a house party and it'll fit right into the scene, but there is more to Terner's music than contagious beats and smooth flow. When you turn up the volume and feel the music, his clever, witty and fast-paced rhymes will put you in a whole other world.
Tim's mixtape "Entourage" has something for everyone. Of course there are the fast-paced songs with an attitude that says "This is me, hate it or love it." However, there are also some slower jams that are perfect for unwinding. Each song has its own taste, and every song has truth and reality embedded into each line, which ties them all together nicely. This mixtape definitely gives you a great introduction to Tim's style and talent. His track "My Way" is the first song that grabbed my attention because it expresses how Tim feels about his future. The lyrics "My road's paved and it's gonna be straight/As soon as y'all look my way," shows his optimism in making a change in the rap game, and how passionate he is about his music. So let's all "look his way." Another song that draws me in is "Shredded Notebooks." This track is a bit slower, and expresses his sentiments about a girl. It really shows his adaptability because he goes from fast rhymes to slow jams with the old school hip-hop beat as the cherry on top.
If you're intrigued enough to open your mind up and listen to some real, untouched jams, then look up Tim Terner and prepare to have your mind blown. You can find him on Facebook under the name Tim Terner.