Crosby Tillman, Contributing Writer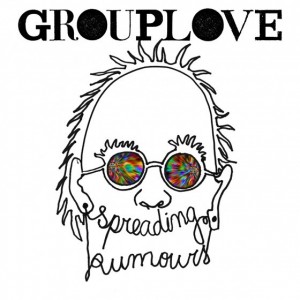 Grouplove has just released their second album and it is pure fun that allows you to escape into their world of catchy songs and melodic harmonies. It is hard not to turn it up as loud as possible and dance around your room. In 2012 they had one of the top songs of the summer, "Tongue Tied," and they are continuing to pump out hits with their new album "Spreading Rumors." The band's ability to crank out loud music is clearly noted in this powerful new album.
The band formed after Christian Zucconi (lead singer, guitarist) and Hannah Hooper (back up vocalist, keyboardist) met in NYC following one of his shows. She asked him to go to Greece with her for an artists' retreat, where they met childhood friends Andrew Wessen (guitarist) and Ryan Rabin (drummer), as well as Sean Gadd (bassist) from London. They formed a friendship that lasted long after the trip, and decided to make a band. The music they form together is grungy, fun, expressive and somewhat spacey.
The entire album was produced by fellow bandmate Rabin, which allowed them to have more fun and really make it their own. It begins with a soft build up on the powerful first track, "I'm With You," that really catches the listeners attention. The album continues with the explosive melodies and hooks of "Borderlines and Aliens" which is more heavily guitar driven and somewhat unexpected for Grouplove based on their previous work. "Ways To Go" is another surprise from the band, because it has more dance beats with less guitars and drums. As you listen to it a few times it really grows on you and you can't help but get up and dance. The album progresses with even more catchy, upbeat songs, but they slipped in a few slower ones that bring you back down from this musical high in "Hippy Hill," "News To Me" and "Save the Party."
Grouplove has clearly delivered on their second album and avoided the dreaded sophomore slump. Go and hear for yourself and spread some rumors.