Michael Bonanni, Senior Staff Writer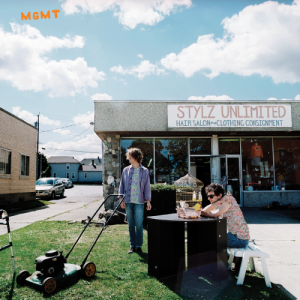 Seven years after their debut, MGMT has finally come out with their third album, and the best word to describe it is growth. Their sound had changed between the first and second albums from a catchy, poppy sound to a more proto-punk feel.
But on their new, self-titled album there are no more organs or hooks. Instead, they concentrate on what separated them in the first place: lyrical depth and experimentalism. A lot of MGMT songs have an experimental edge, but in their latest effort, they go all out in an especially beautiful and artful way. While maintaining instrumentals in the songs, MGMT coats the melodies in layers of electronics. Many tracks feature a more ethereal sound, too. This is best showcased in songs like "Astro-Mancy" and "Cool Song No. 2" which rely mostly on the new electronic sound.
The best part of this updated sound is that it focuses more on the lyrical work. Yet, the only problem with most of the songs is that the vocals are sometimes easily drowned out, so it may take multiple listens to pick up what's being said. MGMT has been known to write songs from a mystical perspective, using music to spread ideas and create much debate over lyrical depth. It can be agreed that the song "Kids" from their first album is about growing up from the innocence of youth in society. The song "Mystery Disease" from the new album discusses greed as a plague causing misery in several different ways from corporate to the government.
Yet, they haven't completely ditched their old sound, and it can be heard in a lot of the standout tracks like "Alien Days" and "Introspection." There's also a track about halfway through the album that completely stands out in both tone and sound. "A Good Sadness" takes the new electronic-based style and twists it into an almost industrial one, sounding like a less intense Nine Inch Nails. It works well to keep the listeners' attention all the way to "I Love You Too, Death." This sees MGMT basically going all in to create a loud and busy song that often feels dissonant. It includes many sounds from chimes to harps to synthesizers, all working together to create quite a chaotic yet ethereal atmosphere.
"MGMT" is a definitely a solid album and every song has some sort of merit. There is a decent variety of sounds making it good for almost anyone. Though it rarely recalls the more pop-oriented sound from "Oracular Spectacular," for those looking for a musical journey, this is the album to choose. There are some really interesting moments throughout, but it may seem a bit to strange or noisy for some to get into. If you liked MGMT before you will probably find this to be a good album, but don't expect any driving dance rhythms. Expect a matured band finally exploring the depths that their sound can reach, and being as experimental as possible.