Elizabeth Raphaelson, Managing Editor
Janelle Monáe's second release, "The Electric Lady" brings all the slinky-sounding funk that won over the hearts of fans with her debut album, "The ArchAndroid" (2010). With a slightly less psychedelic and more Motown-industrial sound (that's a thing, right?), she highlights her classically trained voice, peppered with the flamboyancy of a seventies-pop
singer.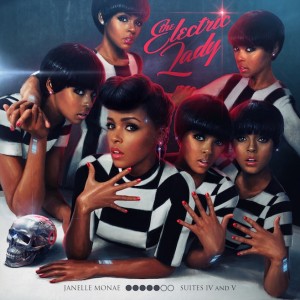 The highlight of the album for me is "Give Em What They Love," the long-awaited Prince collaboration. Dark, guttural and gritty, it is as expected, a song that could only come from the soul dream-team. With Monáe's biting mid-range voice and Prince's strained falsetto, the voices sound like two sides of the same coin—the male and female version of the same cry. The rhythmic guitar riff keeps the duet in check, keeping them calm in a time of pure chaos.  I challenge you to contain your goose bumps when Prince whispers, "I am sharper than a switchblade. First and last of what God made and that's the truth."
One of Monáe's main selling points is that she manages to bring the seventies and eighties vibe while giving her music an edge that makes it sound distinctly "now." Complex chord changes and twisting melodic lines make it a departure from your seventies ballads while the beats and horns harken to a funkier era. Monáe's deep understanding and appreciation of jazz is a part of the musical fabric of this album, which features the great jazz bass player and singer Esperanza Spalding on "Dorothy Dandridge Eyes."
Monáe's second album has a distinct feeling of urgency. Lyrics like "Tick-tock, I'm watching the clock I can't wait 'till we get to rock" on the song "Primetime" leave the listener feeling as if at any moment the album might stop while Monáe goes to take care of something she should have a long time ago. It is this aura, along with her penchant for musical nostalgia that creates an intense and consistent feel. It is an album that while feeling fresh, also feels like it has been around forever.