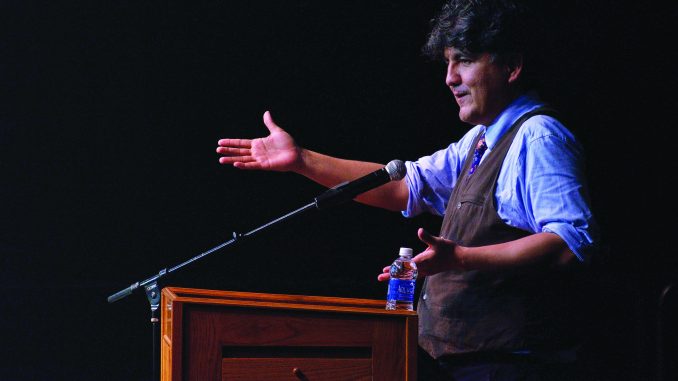 Daniella Sannuti, Contributing Writer
Students, faculty, and members of the Oneonta community gathered on September 10, to hear Sherman Alexie speak at SUNY Oneonta's Mills Distinguished Lecture. A Native American author, poet and filmmaker, Alexie greeted his audience with a humorous welcome. Alexie provided the audience with a briefing of his life, growing up on the Spokane Indian Reservation in Wellpinit, Washington. While growing up on the reservation, Alexie faced health problems, financial hardships and racism. Despite all of this he still managed to be one of the first students from the reservation to transfer to a better school, attend college and eventually become a prominent Native American writer.
Alexie made note of the numerous times that the audience lacked basic knowledge about Native Americans. He described his childhood as being "Sick, poor, and subject to all this racism and classism." He also spoke about living with no electricity for years and being forced to eat government issued food. Alexie recounted his realization of how outdated his highschool textbooks were when he saw his mother's maiden name scrawled in his history book. From that moment he knew he needed to make a change in hopes for a better future.
Alexie transferred to Rearden High School and was exposed to varying forms of racism. Although he was only trying to receive a better education, members of his tribe did not see it that way. In more ways than one, he taught the audience how holding onto your beliefs is one of the most important things in life. Heled by example, and today, there are numerous members of his tribe attending Rearden High School to receive a better education.
"We like to think of things as the past, but not  when it happens all the time," Alexie stated when discussing how racism is still alive throughout the United States today. After stating multiple times that white people would believe anything about his culture, he said that he doesn't even fit into the stereotypes placed on him— he isn't "drunk and poor, nor wise and spiritual."
One of the best parts of this lecture was how comfortable Alexie was discussing controversial subjects. Student, Valerie Tomo stated, "He wanted to say all the things that most people are normally afraid to say…and get everyone out of their comfort zone. I really liked how he didn't hold anything back." Honesty when sharing beliefs was something Alexie certainly did not lack.
"Not only was he funny and captivating, but he was also brave enough to cross the line multiple times and express his own opinion on certain matters," said junior, Eden Held.
He showed that although people may not share your perspective, your opinion still matters and you shouldn't be afraid to speak up. Tiffany Davis, also a junior at SUNY Oneonta stated, "Sherman made me think a lot and he pushed us to look more into topics we already held opinions about because we were raised to hold these opinions."
Alexie challenged the audience to think twice about stigmas in society. He also pointed out that while we may strive for diversity, we may not actually be making leaps toward it. He suggested that we all take a look at who we socialize with and see if we are doing our part in making a difference for diversity on campus.
After challenging the way we should think, Alexie impacted students at Oneonta. "I really enjoyed how open he was with our campus in regards to his personal and academic life," said senior, Lauren Laurita. Alexie's speech was eye opening, showingthe importance of facing adversity and defending your beliefs.