Kimberly Wakefeild, Contributing Writer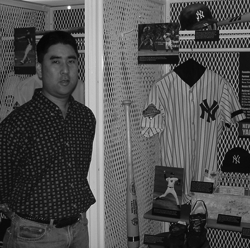 If you're a freshman or transfer student you know how terrifying it can be to be in a new environment. Everything is new: professors, the town, classes, campus, majors, peers and roommates. It is a lot to get used to, isn't it? Well, one way to ease into college life is to get to know your professors.
Professor Jon Arakaki is a Mass Communications professor, who has already influenced the lives of many students, including my own. He specializes in "sports and celebrity roles in media" and believes there is a ton of crossover between the two. So if you are into sports or celebrity news, this may be the professor for you! If you ever catch yourself wondering about the qualifications of your professor, because let's face it, we all want the most from our education, then have no fear, because Professor Arakaki has an extensive education background. He has received a Ph.D. from the University of Oregon in Media and Society, a Master's Degree in Communication Studies from the University of Nevada, Las Vegas, and a Bachelor's Degree in Communication from the University of Redland.
He loves teaching here at SUNY Oneonta because we have "good students." A recent increase in "selectivity in accepting students" means "higher quality students" are attending SUNY Oneonta. The students show a lot of ambition and actually want to be here, which he claims makes his job (as well as other professors' jobs) a lot easier.
When asked what advice he would give his students, Professor Arakaki said he believes in the importance of getting involved on campus. Become involved by signing up for clubs or organizations that suit your interests. According to Arakaki, this is a great way to meet new people and dive into specific aspects of your major. If you're a Mass Communications major, he noted that joining State Times, WONY radio station or The Wire can give you good insight into the field and hands on learning. He stressed the idea of getting involved several times during the interview saying, there is "nothing sadder than helping a senior fill out a resume before graduating with nothing to fill in." Remember: clubs and organizations, as well as volunteer time, look great on a resume!
Another word of advice he gave was to take your chances at internships. How else can you get a taste of the real industry in which you're studying before you graduate and lock yourself into a certain field? Make sure this is what you want!
The last piece of advice he gave was to take several 100-level courses during your freshman year. The final question I asked Professor Arakaki before ending our session was: what is your goal concerning what students take away from you? His response was this: "Students should have fun learning, because it shouldn't be painful."
I hope in the near future this article helps sway your decision on which professor to take, because Arakaki is a well informed professor who takes the time to get to know his students and is really passionate about his area of study.