Cady Kuzmich, News Editor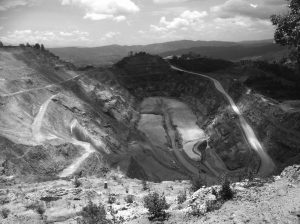 This summer, I spent six weeks backpacking around Guatemala with a Canadian non-profit organization. While the trip wasn't exactly what I had in mind, I'd be lying if I said it didn't have an impact on me. Eight of us from Canada and the U.S. went to work planting trees with the Chico Mendes Foundation. We met with anti-mining activists, worked with campesinos and layed cement with ex-guerillas. We trekked through the highlands, sleeping in churches and the homes of kind locals along the way. We woke up to the sound of women slapping corn tortillas and the morning news blasting at top volume. I quickly learned that when the sun rose, the roosters crowed, machetes were sharpened and the day began. I got used to seeing drunks passed out next to street dogs in the gutter. Hell, I even came across a couple drunks washing themselves behind tombstones in the cemetery. It was the rainy season, so I showered when the sky opened up. It turns out rain gutters make fine showers.
Over the course of the trip, we visited a couple communities heavily affected by Canadian and U.S. mining operations. Mining tears the land apart, rendering it useless for anything but its own operations. Subsistence farmers are often forced off their land, while local water supplies are polluted. In El Estor we met with Angelica Choc, a woman who has taken on the role as a community leader since her husband's death. Choc's husband, Adolfo Ich, was on his way to calm down a protest when he was assaulted by mining security forces with a machete and shot to death. Sitting in a van, I looked at the women in front of me. Two had lost their husbands to mining security forces. No arrests were made. In San Miguel Ixtahuacan, a young woman named Maria described the conflict between her mother, Dona Diadora, and the mining company that wants to buy her land. She recounted the day two mine workers arrived at her door and shot her mother in the face. Diadora survived but lost an eye and the men were never charged. The mining company has worked to turn the community against her; and their efforts are paying off. When we first arrived in town to speak with Diadora, some men asked where we were headed. When we told them, their demeanor changed instantly and they curtly replied they don't speak with anyone going to see Diadora. The old woman's water supply has been cut off. She continues to be threatened. To this day she refuses to leave her small home.
An old man invited us into his home nestled in the woods off a back-country road. The mine is installing a pipeline that runs through his property. He offered us some peaches and asked us to stop the mine, as if he were asking us to pass a napkin. Like we had the power to stop a multinational corporation. I may not be able to stop the mine, but I can expose some fundamental truths about it. U.S. and Canadian mining companies like Hud Bay Mineral and Goldcorp are exploiting both the Guatemalan people and their resources. They are taking advantage of a flawed justice system and permitting heinous acts of violence by their employees. By amplifying the voices of people like Angelica Choc and Dona Diadora, we bolster their cause. Many hardships are left unspoken. When the world is watching, we have a chance at something close to justice. Angelica Choc and others impacted by Hud Bay Mineral are taking the company to Canadian Courts.
Silence is immeasurably dangerous. If someone is generous and brave enough to share their story, listen. From there we can start creating solutions.