Elizabeth Raphaelson, Staff Writer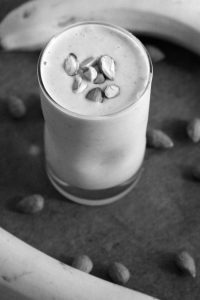 Apparently I'm on a bit of an almond kick, but this smoothie tastes exactly like an almond crunch bar!
What you need:
4 bananas
6 ounces frozen peaches
4 cups of almond milk (I used vanilla)
6 ice cubes
1/2 tea spoons ground ginger
3 shots amaretto (if you don't want to use amaretto, you could substitute another liquid and add just a dash of almond extract)
Candied ginger (for garnish)
What you do:
Blend everything up (besides the candied ginger) until it is nice and smooth. Then after you pour it, sprinkle some ground ginger on top and add a piece of candied ginger to the rim of the glass! Et voila! I found a way to make a smoothie unhealthy!