Alex Fredkin, Arts Editor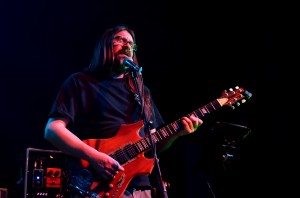 Fans of the Grateful Dead and Jerry Garcia were in for a treat on Saturday night, April 20, at the Oneonta Theatre. The Garcia Project played a long set of tunes from Garcia's side-project, the Jerry Garcia Band. The group is unique because they take special care to make sure all the instruments used replicate those that the Jerry Garcia Project actually used, all the way down to the classic Hammond Organ.
The band consisted of a keyboardist who had three different instruments. He used all of these effectively to produce the classic jam bandy sounds and harmonies that everyone expects from a Garcia track. To recreate the special vocal tones, the band employed a female backup singer to go along with the lead guitarist and singer of the band. No jam band is complete without a solid and dependable rhythm section, and the Garcia Project did not disappoint in this facet either. Their bassist and drummer were spot on, with rolling fills and anchoring bass lines laying the groundwork for the whole show.
The band played songs that any fan of the Jerry Garcia Band would expect. The group was known for playing a Bob Dylan cover of "Tangled up in Blue," and this was one of the highlights of the event. Not many vocalists have as recognizable a vocal style as Dylan, and it is hard to pull off the right way. The vocalist on Saturday did a spot on job and transported the Theatre's crowd to a dusky night in the 1970s.
Another memorable performance was that of Garcia's song "Play me a Melody." While jam band music is known for its upbeat nature, this song was a nice departure from the norm, and the most heartfelt performance of the night. It has a very slow pace, and is centered on a cheery guitar line. This track quickly put a smile on everyone's face that did not leave until the end of the show.
The show was aptly scheduled for 4/20, the unofficial weed holiday. This atmosphere was sure to bring some interesting characters to the Theatre, and I was not disappointed. One guy was wearing grills that had flashing neon lights in them. As if a grown man wearing grills in Oneonta is not absurd enough, they also served as their own miniature disco ball. It was excellent.
The stereotypical stoner crowd was represented in full force as well, and many took the effort to thoroughly "prepare" themselves for the event.
All in all it was an enjoyable show, and exactly what you would expect from a jam band. The group played Jerry Garcia Band tunes solidly, and put on a fun show for the whole crowd.