Alex Fredkin, Arts Editor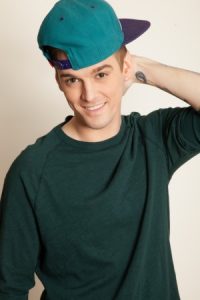 Child star Aaron Carter has re-entered the spotlight, playing an 80-date "After Party Tour" at venues across the country. Carter is playing at venues all the way from Los Angeles, CA to Jacksonville, Florida, and has picked Oneonta to be one of his many stops. This Thursday, April 25 he will be performing at the Oneonta Theatre (47 Chestnut Street) with special guest Chrystian. The show starts at 7:30.
Aaron Carter began his career at age seven, singing for the band "Dead End." He left this band after two years with the desire to pursue a more pop-oriented style. His debut album "Aaron Carter" came out in 1997. Three years later Carter released his breakthrough album "Aaron's Party (Come Get It)" which went on to go 3x platinum, selling over 3 million copies in the U.S. alone. The album contains standout tracks "Aaron's Party (Come Get It)," "I Want Candy," and "That's How I Beat Shaq."
Carter went on a long hiatus after this, with his last album coming out over ten years ago in 2002, but he is back and ready to play to his longtime fans once again.
Fans will be able to relish in the nostalgia of the event, and hearken back to their younger and simpler days when the major pop acts of our generation such as Britney Spears and 'N Sync were around. Back to the days when we spent all of our time running around outside or watching Spongebob Squarepants, as opposed to spending long hours writing research papers in the library.
Tickets for the event are $17 in advance and can be purchased at the Oneonta Theatre, online at oneontatheatre.com, and at local outlets such as Maxwell's. Super fans of Carter's can also purchase a meet and greet package for $50, which includes an autographed photo and a chance to meet the man himself.
The State Times has been granted an interview with Carter, and will be able to provide special insight into his thought process and a behind-the-scenes of the event in the next issue.
Come to the Oneonta Theatre this Thursday, April 25 to enjoy some classic pop tunes and go back to the time when you were a kid again.