Marielle Genovesi, Staff Writer
Last Thursday Dr. Brian Haley, associate professor and chair of the Anthropology Department at SUNY Oneonta, was the 19th recipient awarded the college's annual Susan Sutton Smith Prize for academic excellence. The award was established and founded by Dr. Thomas Smith and Mrs. Mary Smith, in honor of their daughter, a former professor at SUNY Oneonta, in order to celebrate and reward academic work outside of the classroom. Dr. Haley is a cultural anthropologist whose research focuses on how ethnic, racial and national identities form and change, as well as cultural consequences of capitalist agriculture, Mexican immigration, globalization and tourism.
Haley gave a lecture of his academic work, "Unexpected Histories: Hippies, Hopi's and Ammon Hennacy." Upon addressing the full audience in Morris Hall he first said, "the best kind of honor you can get is from colleagues that work near you and know you well;" the award is chosen by a number of professors at the college.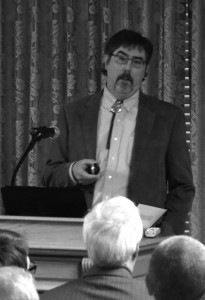 Unexpected histories, says Haley, is a "simple problem in understanding problems in the roots of culture and identity." In his lecture Haley spoke about identity issues of the Hopi people and Chumash traditionalism, and the influences of the Hopi Traditionalist Movement of the 1940s-70s on the founding of Chumash Traditionalism and neo-Chumash identity in the states of California and Arizona.
In his presentation he highlighted the pathways through which cultural fates take "twists and turns." For years Haley has observed and discussed Chumash ethnohistory, revealing the many social units that existed within the cultural group and the changes that took place in the 1960s.
Discussing a mingling of Hippie and Hopi cultural beliefs, identities and teachings steered by figures like Ammon Hennacy, a pacifist and social anarchist who placed himself among the Hopi peoples, Haley was an avid supporter of the Hopi political system, without really knowing anything about it, Hennacy's writings on the Hopis appeared in a number of radical newspapers. This cultural mixing in the late 20th century even occurred within popular musical movements of the time, such as the Grateful Dead.
At the conclusion of his lecture, Haley admitted that his research might not seem relevant or important to those in the audience, but that it certainly was, for there has been lasting effects due to the inaccurate depictions of the Hopi Traditionalist movement in America Today. And in a truly anthropological fashion, the issue must continue to be examined and looked at and argued through all angles and positions. If you find yourself intrigued by Dr. Haley's academic pursuits on the Hopi peoples, he would no doubt truly be willing to discuss his findings and share his interests on the topic.