Richie Feathers, Staff Writer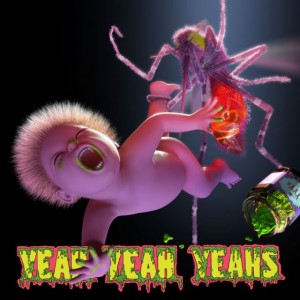 An entire decade has passed since the Yeah Yeah Yeahs released their debut "Fever to Tell." Led mainly by the stunning ballad "Maps," the album found both critical and commercial success, quickly becoming a template for what art-punk sounded like at the beginning of the new millennium. At the time, the New York trio offered a fresh take on the garage-rock scene with vocalist Karen O's shrill and sexy cries, guitarist Nick Zinner's immediate riffs and Brian Chase's commanding drum beats, a combination that has since garnered a loyal following.
Yet, as the past ten years have proven, the Yeah Yeah Yeahs have always had more tricks up their sleeve, and with each succeeding release the three musicians reinvented their sound without compromising their unique and eccentric persona. 2006's "Show Your Bones" was a detour in more polished alt-rock while 2009's "It's Blitz" was a masterful rush of synth brilliance with essential hits like "Zero" and "Heads Will Roll." And four years later, they've returned with "Mosquito," a sprawling variation of styles that looks back on their career while simultaneously taking it in another new direction. The album starts with first single "Sacrilege," a lo-fi jam about forbidden love with a shimmering guitar groove and an anthemic gospel choir finale, before moving into the incredibly slow-burning "Subway" where Karen O purrs over a recorded subway track that provides the sole percussion. It's an interesting sequence to begin "Mosquito" but the title track comes in as classic Yeah Yeah Yeahs to pick up the pace and lighten the mood as O buzzes like its titular insect and proclaims that she'll "suck your blood!" The song then glides into "Under the Earth," a sinister standout that's a take on reggae as only the trio could do, and continues with the excellent "Slave," a rock outing that sees Chase at his most primal, demanding all the attention.
Elsewhere, "These Paths" is a repetitive yet enchanting beauty that experiments with vocal glitches and synth waves while "Buried Alive" is a futuristic tune that features a rap verse from Dr. Octagon — a verse that's a stretch on paper yet works because it chooses style over substance. But after this flurry of innovative and upbeat numbers, "Mosquito" closes with three quieter tracks, another interesting sequence that pays off wonderfully. "Always" is a luscious synth track that sounds like a b-side to 2009's "Skeletons" while the gorgeous "Wedding Song" — a song O sang at her own wedding — finds her at her most vulnerable. Yet it's "Despair" that shines brightest as the most straightforward and effective moment of the entire album. Despite its title, the track is immediate and uplifting, recalling their 2006 simplicity that still feels new in 2013.
Although the Yeah Yeah Yeahs' inherent ability to adapt to changing surroundings has become as much a trademark as their beloved quirkiness, "Mosquito" saves some of its best moments to recap on where they've been. But as a whole, the album is a clear and exciting testament to why they've made it this far.
Key Tracks: "Despair," "Under the Earth," "Sacrilege"
Grade: A-