Alex Fredkin, Arts Editor
It is really hard to film a great sex scene. If not done properly it can be awkward to watch, or at the very least, superficial and not necessary to the film. But if done correctly, a sex scene is able to incorporate all of the themes and tensions of the film, making the scene work on a level that is both parts physical and mental, while the act adds to the plot and resolution of a movie. These four sex scenes do this successfully all in different ways, showing that a sex scene can take many forms and be effective in a variety of ways.
9 ½ Weeks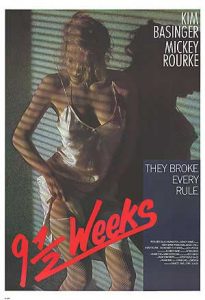 The sex scene in "9 ½ Weeks" is different from the others on this list because it strictly involves foreplay with food. The film is based around a short relationship between characters John Gray (Mickey Rourke) and Elizabeth McGraw (Kim Basinger). It starts off with John telling Elizabeth to close her eyes and lie on the kitchen floor. What follows is a not-so-subtle act where John feeds various things to Elizabeth. Starting with a tomato, cherries and Jello, he ramps it up by feeding her a spicy jalapeno. To wash it down she drinks milk afterwards, letting it spill all over her chin. The innuendo gets more and more obvious as John sprays champagne on Elizabeth and pours honey down her. The scene works well as the camera focuses in on Basinger's lips and neck, as well as featuring the fun, light interplay between the two.
Monster's Ball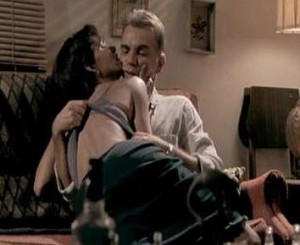 "Monster's Ball" has a long sex scene featuring Billy Bob Thornton and Halle Berry. Thornton plays Hank Grotowski, a corrections officer at a state prison in Georgia. Berry plays Leticia, a widow whose husband Hank coincidentally helped to execute. They meet after Hank stops to help Leticia's son, who is killed by a car. The two form a relationship which is very taboo in the racist town they live in, so they need to keep their interracial love a secret. All of this hangs over the two as they have sex on a couch. This raw scene has no background music. It is quite long and realistic; the only sounds that can be heard are the grunts of the two and the squeaking of the couch.
Unfaithful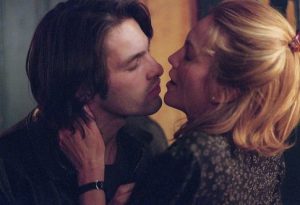 Diane Lane and Olivier Martinez star in "Unfaithful," a film about a dangerous love affair between Connie Sumner (Lane), and Paul Martel (Martinez), which ends up in Martel's eventual death at the hands of Sumner's husband. One of the sex scenes in this movie perfectly captures the essence of a quickie when Martel takes Sumner into the bathroom during lunch. Sumner's friends are downstairs gossiping about her, and little do they know she is with another man right above them.
Brokeback Mountain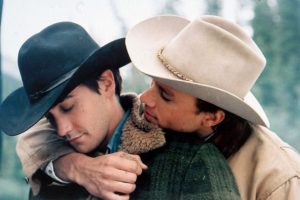 Almost any sex scene pushes the envelope a bit, but the most controversial of all has to be the scene between Ennis Del Mar (Heath Ledger) and Jack Twist (Jake Gyllenhaal) in the film "Brokeback Mountain." This film portrays the complicated and nearly impossible romance between two gay men in a period from 1963-1983. The scene takes place when the two are hired to tend sheep over a summer. One night they share the same tent because it is so cold outside. The anticipation in this scene is tense as the viewer knows what is going to happen. The two start having sex, but not before a brief struggle with each other as they know the act is forbidden. This scene shows the difficulty the two have as they are forced to hide their love for one another.