Alex Fredkin, Arts Editor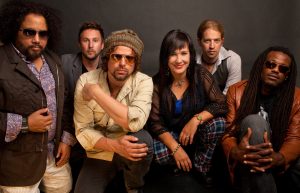 Rusted Root took the stage Friday at the Foothills Performing Arts Center for a sold-out show and let audience members into their cultural blend of worldly folk music and bluesy tradition. Joel Plaskett and Pete Elkas warmed up the crowd and got everyone in the audience ready to experience Rusted Root to the fullest.
You probably know Rusted Root from their song "Send Me On My Way," which has been featured in movies such as "Matilda" and "Ice Age," but they have plenty of other great songs.
Rusted Root is a band that draws inspiration from many different styles of music; they cannot be pinned down to one genre.
Putting their own twist on the traditional four-piece band, Rusted Root features an extra rhythm guitarist and also a percussionist. In live performance the band utilized an impressive percussion section, and the many different rhythms of each member helped produce an all-encompassing sound.
It seemed like every single song featured a different instrument, with maracas, bongos, cowbells and tambourines all getting a chance to shine.
The band took full advantage of their melodic diversity as well. Certain songs featured four-part vocal harmonies, with the lead singer, percussionist and both other guitarists joining in together. Having three guitarists led to some very interesting and involved jam sessions as well. Rusted Root would often take songs on bluesy tangents and folk jams.
They displayed their appreciation for all music with some great renditions of a few classic songs. Most notable was "Very Superstitious" by Stevie Wonder. It started off about half the speed the original and was almost unrecognizable except for that classic bass line. With a soulful blues vibe, the band really laid down the groove on this one, and every crowd member showed their appreciation by singing the lyrics.
The band took advantage of all their percussion with a long and impressive drum solo. The drummer started off playing on his set while the other members all took different percussive instruments and helped add to the ensemble. Later on the drummer surprised everyone by leaving his set and drumming on whatever he wanted to. He played on the floor, on a ladder he found back stage, and even on a fan's empty beer bottle. This type of improvisation and light-heartedness permeated the entire show.
With such a unique sound, Rusted Root has been able to develop quite a cult following. One woman I spoke to had driven two hours from Saratoga just to see the band play that night.
The band did not disappoint their fans, playing favorites such as "Fortunate Freaks," "Ecstasy," and of course, "Send Me On My Way." This was certainly the highlight of the show. Continuing their penchant for the unexpected, the band played this song right smack-dab in the middle of their set, not as the last song or during the encore as one might expect. A little kid was brought on stage, given some maracas, and then the unmistakable guitar melody kicked in to raucous cheers and applause.
Everyone in the audience sang their hearts out to this beloved tune and Rusted Root did not disappoint with their most recognizable song.
Rusted Root proved to newcomers that they are more than just a one-hit-wonder. Every performance was spot-on, and the band jammed and rocked out like the best of them. It was a great concert, and Rusted Root sent everyone on their way with a big smile on their face.