Michael Bonanni, Senior Staff Writer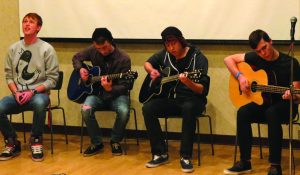 Rock to Cure opened up the Hunt Union Square to Oneonta students last Tuesday, hosting an open mic night to help their cause. Rock to Cure is a campus club devoted to using events involving the arts to promote cancer awareness and raise money through organizations such as Susan G. Komen For the Cure. The night consisted of entirely musical acts, although other forms of expression such as comedy or dance were welcome. Eight acts signed up and played songs ranging from a classical guitar solo piece to a Taking Back Sunday cover. Each performer had either ten minutes or two songs to a set.
The atmosphere was peaceful yet attentive, with some silence in-between sets. Plenty of people attended, and the room was full for the most part. There was also an allure of coffee and cookies on the side and while it was technically free, it was a nice gesture to donate for the club's cause. All the food and coffee was donated by Sodexo.
Musicians that played included Lauren Cameron, who had teamed up with her roommate to do an acoustic cover of "She Will Be Loved" by Maroon 5. Club President Nate Wind also took part in the show, playing a cover of "Remembering Sunday" by All Time Low, as well as an original song of his.
All in all, the show was great despite being short at about an hour and a half. According to Wind, the show was only limited to length by the amount of people who signed up to perform. "We were actually supposed to have an acoustic show," said Wind, "but there's a sickness that's been going around so the bands that we wanted kind of fell through." That's where the open mic night came in and the event managed to work out for the club. "Tonight went really well, it was better than expected" he said, and hinted at the strong possibility that there will be more of these on campus open mic nights. Wind has also said that Rock to Cure is in the planning stages of an Autumn Cafe show featuring some original Rock to Cure bands, which will hopefully come together later this semester.
Wind hopes that these events will also help the club get people interested and want to be involved with Rock to Cure, adding "We really want to grow our club." Rock to Cure meets every Tuesday night at eight in room 200 of the Fine Arts building.
photo by Dan Linek