Afua Nuro, Staff Writer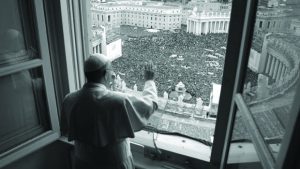 There is a lot to talk about regarding the Vatican and the Catholic church. This past month the Vatican has been making headline news for a number of reasons. It began with the resignation of Pope Benedict XVI from his position as the head of the Catholic church on February 28, 2013. He took office as Pope in 2005 and after eight years he was ready to resign. He said in a statement on February 11, 2013 his reasons for resigning were due to his old age; he believes he will no longer be able to continue his duties. and on the same day lightning struck down on the Vatican, twice. Benedict XVI is the first Pope to resign from the position in 600 years.
Since his resignation there have been a lot of questions surrounding this resignation: What will we call the Pope when he resigns? Where will he live? What will he do? But, the most important question is who will be the next Pope? As a Vatican tradition, whenever there is not a reigning Pope, black smoke comes out of the Vatican chimney. When a new Pope is elected the smoke will turn white. On March, 13, 2013 that black smoke turned white.
Cardinal Jorge Mario Bergoglio recently became Pope Francis and he will be one to remember. At the age of 76 he has made history as the first non-European Pope of the modern era, the first from Latin America, the first Jesuit and the first to assume the name Francis. In the last Papal election he received the second most votes losing to the newly retried Benedict XVI. According to CNN, after Pope Francis was elected, he did something that a Pope has never had the chance to do before. He called his predecessor, Benedict XVI. News of the phone call came from the Rev. Tom Rosica, a Vatican spokesman.
As a cardinal, Pope Francis clashed with the government of Argentina, where he is from, over his opposition of gay marriage and free distribution of contraceptives. There may not be any hope for many Catholics who want changes in the church's policy of gay marriage and the use of contraceptives. But, a change the new pope may be able to bring together many different nations from different backgrounds. Latin America is home to 480 million Catholics and there are 1.2 billion who practice all over the world.
According to CNN Vatican analyst, John Allen, "Pope Francis' name symbolizes poverty, humility, simplicity and rebuilding the Catholic church." The new Pope took his name Francis in honor of St. Francis of Assisi because he is in favor of struggling individuals. Over the years the Catholic Church reputation has been stained because of scandal like sexual abuse from pastors, among other things. Could Pope Francis represent change and potentially be a great gift for leadership for all people within the Catholic church? Only time will tell.