Laura Nayibi Arias, Culture Editor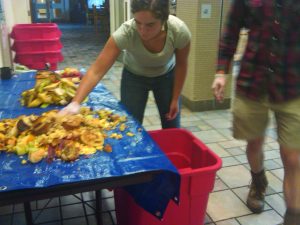 Last semester SUNY Oneonta took a step towards their commitment to sustainability when they created a sustainability coordinator position. After students, faculty and staff had the chance to review the qualifications of the four candidates applying for the position, our first sustainability coordinator was hired. Hannah Morgan, who received both her bachelor's and master's degree from the College of Environmental Science and Forestry (SUNY ESF), was a sustainability intern at Syracuse University for two years and has an exceptional background in coordinating and leadership. She has not yet been with us an academic year and has already established a variety of sustainability-related initiatives.
Not only has Morgan been working with students from groups such as the Student Sustainability Council (SSC), the Environmental Science Club (ESC) and the Environmental Science Activism Club (EAC), but she is a member of the President's Advisory Council on Sustainability (PACS) where she works closely with faculty and staff to enhance sustainability in the college experience. After a semester of countless meetings and planning, Morgan well-acquainted herself with the college and kicked off the spring 2013 semester by opening as the first host for the Resident Advisor (RA) training on January 9, where she gave a presentation on sustainability following an activity which sparked a lot of positive feedback from the RA's themselves.
Additionally, Morgan reports some upcoming initiatives and opportunities such as Recyclemania, which is an eight week competition starting February 3 to promote waste reduction. Such initiative will become easier with our new recycling program which launches in the Fall 2013 semester and will allow us to recycle paper, plastic, aluminum and cardboard into one recycling bin. Morgan has already applied for a grant for more recycling bins. Also, she encourages students to apply for the sustainability fund which can provide a maximum of $1,000 to a project idea which will contribute to campus sustainability. This is a great opportunity to directly impact the college. Lastly, a sustainability website has been created and is incredibly informative. Visit www.oneonta.edu/sustainability for more information.