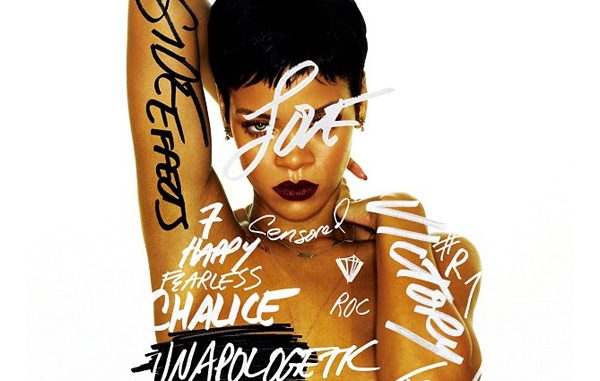 From the moment the track list of "Unapologetic" was first released online, we were guaranteed plenty of controversial discussions to come. While Rihanna's music has rarely been known to inspire much deep thought, her seventh album in seven years is a different kind of monster than her past couple of releases. That's not to say that there's a new, sudden amount of artistic insight, but rather that as a fan and/or listener, you must wonder how Rihanna could release a duet with her ex-boyfriend and abuser, Chris Brown. "Unapologetic" being the title of the album seems to point directly to that duet entitled "Nobody's Business" where they croon about their love being just that. The ironic thing, though, is that it's great.
Although personally the catchy track is difficult to fully enjoy when I hear Brown invite her to make out in his Lexus, I have no doubt that it will be fully adored by those who didn't like Rihanna's 2009 masterpiece "Rated R" because of its dark nature. However, that album which was written after battered pictures of her surfaced on the internet still remains one of the best pop albums of the decade. Credited as a co-writer on more tracks than all of her albums combined, this release was a mature and affective reflection of pain, self-doubt and healing that proved that not all pop music has to be hollow. But because it didn't do well commercially, she's avoided her own vulnerability like a disease, releasing club-bangers like "S&M" and raunchy tracks like "Birthday Cake." "Unapologetic," though, sees her return to darker material as it's a surprisingly solid release.
While by now her label has turned her into less of an artist and more of a well-oiled machine, the numerous writers on the album make it seem like Rihanna is still always in control, no matter the style. Tracks like the hard-hitting opener "Phresh Out the Runway" see her reassume her position as the genre's brattiest personality while the rock ballad "What Now" is reminiscent of 2009's gorgeous "Fire Bomb"—even if the guitar solo ending is a little excessive. And as a whole, the album flows exceptionally well, not just from genre to genre, but from subject to subject. Unfortunately, it also makes any listener question who Rihanna currently is as an individual; a few tracks after "Nobody's Business" sees her recalling the night when Brown's love "hit her to the floor."
Yet, perhaps that's part of the reason why "Unapologetic" is strangely engaging as every song is necessary for the flow and the feel of the record—even the hollow "Numb" with the pointless Eminem verse and "Jump"'s obnoxious dubstep drops help create the varied experience. Add in tracks like "Loveeeeeee Song" as the convincing duet with Future and the smooth "Get It Over With," and this mixed bag is complete. The label may have the keys to Rihanna's career, but at least they've steered her in a better direction than she's been going.
Key Tracks: "Get It Over With," "Loveeeeeee Song," "What Now"
Grade: B