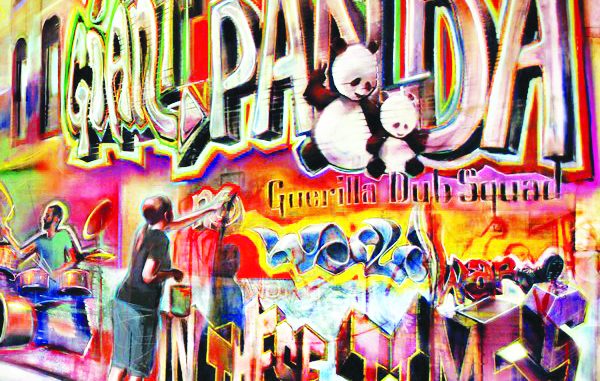 On October 4, the reggae band Giant Panda Guerilla Dub Squad put on a fantastic performance at the Oneonta Theatre and left the entire audience grinning. The band is local, hailing from Rochester, NY, and have played in Oneonta before, gracing the Theatre's stage last winter. Bassist James Searl described Oneonta as "the Bermuda Triangle of New York" stating that not many people know about this area, but it is very cool and "trippy."
The band consists of James Searl on bass and lead vocals, Chris O'Brian playing drums, Dylan Savage and Dan Keller on guitar (and sometimes lead vocals as well), and Aaron Lipp on the organ and keyboard. The band's overly complicated and unique name is adapted from a similar name in the novel "Another Roadside Attraction" by Tom Robbins.
Giant Panda is primarily known as a reggae band, but they are far more than that. Their sound combines elements of blues, ska, rock and even some old school funk as well. Playing material off of their new album "In These Times," Giant Panda enthralled listeners with visceral guitar solos, mesmerizing spacey jams, and a rock-solid rhythm section. Crowd favorite "Love You More" encompassed all of the band members' impressive skills, creating a cohesive package. It started off with a piercing guitar melody which was quite mellow and instantly relaxed the crowd. This was followed by a bellowing bass line which got the bassist to leave the microphone and show off some fancy footwork reminiscent of P-Nut from 311. This song especially set the mood and got the packed crowd of the Theatre's upstairs stage to groove out to the music.
Giant Panda is not your average live band, drawing inspiration from hard rock and funk bands to make a very interesting improvisational style. Bassist James Searl described the togetherness of the band in this way, saying "You go with your friends to the beach, and one dude might be over there [gestures with his hands to the side], one guy might be in the water, and two dudes might be playing frisbee, but you can all see each other and know that everyone is doing their own thing." He goes on to further clarify by saying "It's not like everyone's totally in their own world. It's not like one guy's on the beach, one guy's in New York City, and one guy's asleep." This analogy is spot on with their style. Giant Panda is an incredibly tight band live. All of their songs mold and transform into unrecognizable jam sessions.
The band uncharacteristically rocks out live for a reggae group, bringing to mind a more balls-to-the-wall hard rock mentality. Three minute songs on the record transformed in front of my very eyes into raging ten-minute masterpieces. Both guitarists complemented each other expertly. While one would be ripping off a solo, the other would spice up the melody with zesty atmospheric effects and mysterious sounds. The keyboardist used a bevy of different sound effects to punch songs with triumphant scales and solos of his own. The drummer used his crash cymbals liberally and put every ounce of strength he possibly had into every snare crack. Vocals were not left out of the mix either. The bassist, in addition to always providing a funky and spot-on bass groove, often grabbed the mic and added hip-hop style vocalizations; think Anthony Keidis' vocals in the Chili Peppers' classic "Give it Away." Adding to the tension and experience of every song, the lighting would change from green to red to blue, on cue with different portions of the ensemble, successfully creating much more than just listening to an average song.
The band genuinely put on a great performance, and proved that they are quite talented and a promising band. Preceding them was the equally interesting band from Oneonta, M.A.E. and the Machine Gun Funk. This eight-piece group consists of two vocalists who take turns rapping and singing, two guitarists, a drummer, bassist, and even feature a keyboardist and a saxophonist. The band has elements of reggae and funk, and can be compared 311 or Aer with the combination of rapping and singing. The band did a great job of warming up the crowd for the headliner, but provided an impressive and fun show of their own. They even played some cover songs, doing a great rendition of James Brown's "Get Up" which segued beautifully into Kool & the Gang's "Jungle Boogie." M.A.E. brought back some old school jams and started the show off right.
Two first-class bands graced the stage and put on one of the Theatre's best events of the school year, producing a great night for all involved. Giant Panda Guerilla Dub Squad brought a lot of people out on a Thursday night and jammed like the best of them. Their new album can be heard in its entirety on their Facebook page. If you missed the show, go check out their music online! The band will surely be around sometime again soon, make sure next time you don't miss the marvel that is Giant Panda Guerilla Dub Squad.