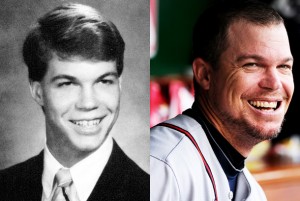 Bobby Lemaire, Staff Writer
On September 30,the Atlanta Braves played their final regular season home game of the year. This normally is not that big of a deal, but this year is different. This was the final regu- lar season home game of Braves' third baseman and hall of famer Chipper Jones' illustrious career. Unfortunately since then, the Braves finished as the first National League wild-card but ended up losing to the St. Louis Cardinals, 6-3, ending Jones' career. However, this was the perfect time to say goodbye to one of the best there has ever been.
Larry "Chipper" Jones is in his nineteenth season of professional baseball. He made his debut in 1993 at the age of 21. He did not get to play during the 1994 season, due to suffering an ACL injury in his knee. Then, in 2010, Jones tore his ACL again, which forced him to miss a majority of the season. While Jones has suffered from various injuries throughout his career, when he did play, he was great and always played with intensity and heart. Jones had a .303 career batting average and in 1995, he was voted second for National League Rookie of the Year, with 23 home runs and 86 RBI. In addition, Jones was an eight time all-star, which showed how consistent of a player he was when he was on the field. In 1999, Jones had his best year statistically, in which he batted .319, with 45 home runs and 110 RBI.
Jones will be most remembered for how well he played in the playoffs, where the at bats mattered most. In the 12 years that he played during October, he batted .287, with 13 home runs and 47 RBI. Constantly battling against baseball's elite pitching, Chipper didn't play the game any differently.
Jones was also known to New Yorkers as a "Met killer." He has 49 career home runs against the Mets, which is second most all time for any player against the Mets. (The leader is Pirates legend Willie Stargell, who has 60). The success that Chipper has had in New York even led him to name one of his children Shea, after the old stadium that the Mets played in. Mets fans labeled him as a villain and always greeted him with loud, obnoxious chants of "Larry."
Even though he announced that he was retiring due to his age and how it has affected his play, Jones still had a very solid year, compiling a .287 batting average, 14 home runs and 62 RBI. During the season, many teams honored him when he made his last appearance in their ballpark. In his final appearance in San Diego, the Padres gave him a surfboard that recognized all of the accomplishments Jones had made, while the St. Louis Cardinals gave him an autographed Stan Musial jersey. Regardless of what the Braves failed to accomplish in the playoffs this year, there is no doubt that he will be enshrined in Cooperstown during his
first year of eligibility.