Justin Lovell, Sports Editor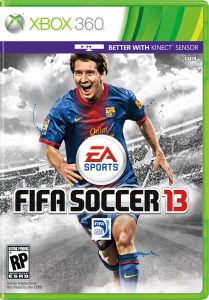 In the United States, soccer is not on the same level as other sports,such as basketball or football. Instead, it is looked down upon and seen as a foreign sport. The same idea exists for Fifa 13, as it is not the most popular in the states, but should be based on the amazing entry into the series this year.
Fifa 13 is by far the best in the series history. Coming off the success of Fifa 12 last year, EA Sports had huge shoes to fill but rose to the challenge. The biggest change in terms of gameplay is the introduction of unpredictability of the ball. The first touch, as it is referred to, is a feature used to make the game feel more realistic. No longer can you sprint down the field and have the ball passed to you perfectly clean. Instead, it will hit the player's feet and bounce around, or go too far past the player. At first this feature was frustrating but as I continued to play, I learned how to work with it and now when I succeed on a hard, long pass, the feeling is that much sweeter.
Another excellent feature added to Fifa 13 is match day and updating rosters. Match day is the mode that lets you play live matches that are being played during that exact day and time. The constantly updating rosters make the match day even more realistic, since it gives you the roster of how the team is playing that day and not just the best players on the team. This is a great feature for the authentic freaks out there, but if you just want to play with the teams' best players and no injuries, all that separates it is one button that has to be pressed while selecting your team. It is a small feature but certainly a welcomed one.
"Skill Games" is another fantastic feature that makes Fifa 13 supreme to Fifa 12. "Skill Games" are just mini games that are fun, challenging and useful. From penalty kicks to long passes and dribbling control, these "Skill Games" help the players gain techniques to be successful in actual games, while having fun and enjoying a change of pace in gameplay.
Of course, the features that made Fifa 12 amazing are still around but are refined to be even better. Ultimate team, season mode, tournaments and online game play have never been better or more in depth. Overall, Fifa 13 will keep you busy all year until the eventual release of Fifa 14. However, for Fifa veterans, the first touch control will take some getting used to but once you do, the realization that this is the best Fifa ever, as well as the best sports game ever, sets in. This fall, score a goal by adding Fifa 13 to your gaming collection, you won't regret it.