Anna Onderdonk, Staff Writer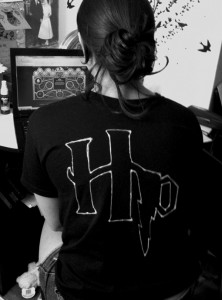 Hardcore Harry Potter fans will rejoice knowing that the world of wizardry did not come to an end with the last movie. After the second installment of "Harry Potter and the Deathly Hallows" came out this summer many fans were upset to see what might have been the end of an era. The Harry Potter series spanned more than a decade of the current generation's young adulthood. However, there is hope and consolation for the fans who simply can't get over Harry, because whispers have spread about an exclusive new website: Pottermore.com.
So it seems the experience that J.K. Rowling has so kindly shared with the world is far from over. Rowling promises, "I will be sharing additional information I've been hoarding for years about the world of Harry Potter. Pottermore is open to everyone from October, but a lucky few can enter early and help shape the experience." The lucky few she speaks of are her most dedicated fans who have been able to view the Pottermore site for a while now, and who continue to give her feedback on how to enhance and improve the site.
Two SUNY Oneonta students, Hannah Kinisky and Jill Abbruzzese, are among the elite with special access to the beginnings of Pottermore. The way the site works is that members may re-explore the books chapter by chapter and learn new things as well as experience for themselves interactive wizarding activities. Members get their own wand and are sorted into their own houses. Kinisky and Abbruzzese were both surprised to have been sorted into the Gryffindor house based on a personality test they encountered during the Sorting Hat chapter.
The reason these two young ladies have access to Pottermore before millions of other fans is because they faced the Magical Quill challenge: an extremely difficult Harry Potter trivia quiz, and were able to then follow a link to a virtual magic quill and receive log on names. "I heard about it on facebook," said Abbruzzese. Kinisky admitted sheepishly, "I may or may not regularly hang out on J.K. Rowling's website."
It seems these fans were rewarded for their loyalty and for believing that Harry Potter is so much more than a series of books or movies. For them and many others, the world of Harry Potter is a lifestyle. The Pottermore website promises to be yet another exciting adventure for any Harry Potter fans that have not been able to move on. Check it out when its magical gates open to everyone this October.