Marcello Iaboni, Staff Writer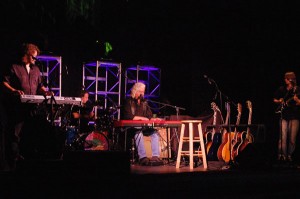 Today's music has a fleeting shelf life. It seems that as soon as a refreshing voice emerges, there's a new one waiting to take its place. For folk legend Arlo Guthrie, this type of disloyalty is of no concern. Arlo's band consists of his son Abe Guthrie on keyboard, grandson Krishna Guthrie on electric guitar and longstanding drummer Terry A La Berry on drums. Those who came out to see Guthrie this past Saturday at the Oneonta Theatre were mostly of the baby boomer generation, which have been following Guthrie since he snickered the words "Don't touch my bags if you please Mr. Customs Man" at Woodstock in 1969. If that legendary performance in Bethel, NY doesn't jog your memory, or if you haven't heard of Arlo Guthrie, you should at least be familiar with his father Woody Guthrie who wrote, "This Land Is Your Land." This classic protest song Guthrie says is "just as relevant today as it was when my father wrote it," citing the Wall Street protests where Guthrie and Pete Seeger had been singing old protest songs at this past Friday night.
Following the tradition of his father, Guthrie is as much a storyteller as he is a singer-songwriter. Many of his songs came to a complete halt to make room for a spontaneous story or comedic outburst, one of which involved Guthrie's wife Marjorie getting arrested in an airport for having a risque package that Guthrie forgot to remove upon leaving Amsterdam. Guthrie did most of his standards such as "Coming Into Los Angeles," "City of New Orleans" and "The Motorcycle Song" which Guthrie says is "the most ridiculous song I've ever written." His show would not be complete without his clever and quirky comedic interruptions, which are a testament to his wit and intellect. These interludes served as a welcoming contrast to his music, which can best be defined as thoughtful and timeless.
If you have the chance, seeing Guthrie is definitely worth your while. If you're expecting a hippie freak-out dance party, then you will be very disappointed. One should expect a very mellow, rich and humorous experience well-suited for a night out to dinner with a significant other or music aficionado who can appreciate firsthand stories of the legendary Woody Guthrie and his legacy.