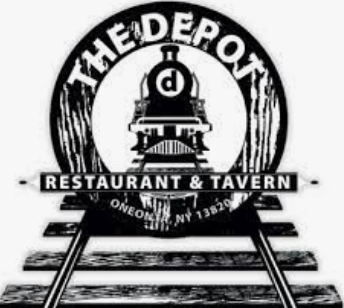 Christopher Milazzo, Staff Writer |
One of the many hidden gems you'll find in Oneonta is "The Depot". Located on Railroad Avenue, it has some of the best food in the area. Before it was opened as a restaurant, "The Depot" used to be a railroad station before it was turned into a restaurant. Some of the decorations around the restaurant show the history of how the restaurant originated. It honors the history of Oneonta, and it makes the town feel more special.
This was my first time visiting "The Depot", but I ordered their food and picked it up. When my group and I were seated, we decided on an appetizer first. We went with a safe choice of Spinach and Artichoke dip. It is safe to say that it was one of the best Spinach and Artichoke dips I've ever had in my life. It was the perfect amount of cheese and spinach that made it amazing. Everyone in my group agreed and we completely devoured the whole dish. When it came to picking a main dish, I had a hard time picking between the Garbage Wrap and the Patty Melt. I decided to go with the Garbage Wrap because it had their signature Garbage sauce on it, one of their most famous sauces.
One of the major things to note about The Depot is the price. With most meals costing less than $15, it feels more cost-effective to eat there with the quality of food you're getting. We were more excited to dig into the entrees and the unforgettable Spinach and Artichoke dip when the food arrived. The Garbage Wrap was just what I needed at that moment. It felt like unwrapping gifts on Christmas morning, it was perfect. The Garbage Sauce may not be the most appealing name, but it paired perfectly with the chicken in the wrap. Another thing to note was the fries, which were amazing. But what pulls the meal altogether is the ranch dressing. Ask for a side of it, and you will not regret it. My friend got the Garbage Chicken Mac and Cheese, which looked so delicious. I stared at it from across the table the entire time we sat. I was able to try a bite and it just warmed my soul.
I was filled with complete envy for my friend. My other friend got the Chicken Wings and they seemed to enjoy them as the entire plate was gone in just a couple of seconds. Overall, The Depot is one of the best restaurants in Oneonta, maybe even coming for Yellow Deli's spot in my personal ranking. The food there felt very comforting and tasted like a nice home-cooked meal, which we all need once in a while. The service was great, feeling like a very positive environment for everyone. I would rate my experience at The Depot a 10/10.