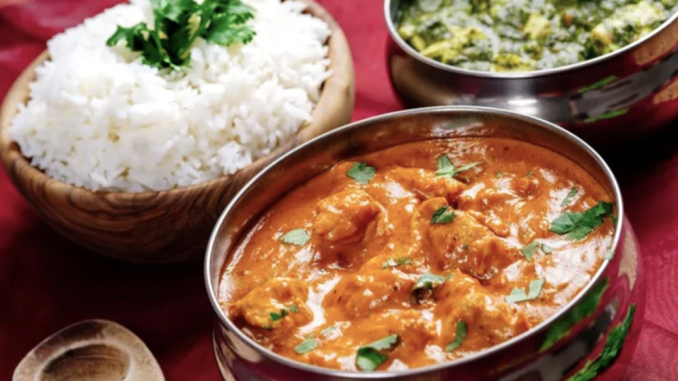 Brandon So, Staff Writer |
Indian Grill is a small restaurant located on Main Street in Oneonta. Indian Grill offers the finest Indian cuisine in town, serving delicious food since 2019. For the past 4 years, Indian Grill has remained consistent in offering authentic Indian dishes made from fresh food and flavorful spices. Some of Indian Grill's most popular dishes are the Chicken Tikka Masala and Chicken Biryani both served with fresh Basmati Rice on the side.
For my visit to Indian Grill, I elected to try their most popular dish, Chicken Tikka Masala. This dish features marinated sliced chicken grilled and cooked in creamy curry served with basmati rice. I also ordered a side of Garlic Naan which is a traditional Punjabi-style bread typically cooked in a Tandoori oven.
The Chicken Tikka Masala with Basmati rice is served the traditional way, in a metal Indian style serving bowl which keeps the food hot while eating. The Garlic Naan is served on the side. A popular way of eating Chicken Tikka Masala is by combining it with Basmati Rice, which helps to absorb the sauce and balance out the flavor between the spices in the sauce and the starchiness of the rice.
At first bite, the combination of the two dishes burst with flavor and a pleasant aroma. The tender chicken combined with the rich and creamy flavor of the curry sauce is a sure winner in my books. Another popular way of eating the meal is by dipping the Garlic Naan into the Tikka Masala curry sauce. The flavor profile of the garlic combined with curry is a delectable addition to the main course. One could argue that the meal is not fully complete without a side order of Garlic Naan. However, it must be mentioned, that there are several different types of Naan that Indian Grill offers including plain, Cheese, Onion, and plenty more! 
The inside atmosphere is very welcoming with different Indian decor pieces located throughout the restaurant. Indian Grill also plays music from some of India's top music artists which helps bring a welcoming restaurant atmosphere in which the customers truly feel that they are in India.
In terms of prices, Indian Grill offers a slightly higher price for some of their menu items in relation to the quantity of food. However, one order of Chicken Tikka Masala and a side order of Garlic Naan is still affordable at a price of $14.99 and $2.95, respectively.
Overall, Indian Grill is a fantastic restaurant that everyone should try. Indian Grill is located at 214 Main Street in downtown Oneonta. Indian Grill is open 6 days a week excluding Tuesdays for lunch and dinner. Make sure to stop by to enjoy authentic Indian cuisine and support your local businesses!