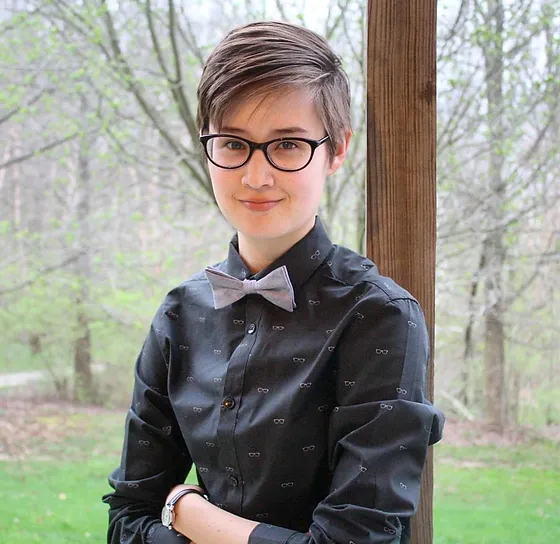 Lara Murray-Sterzel, Staff Writer |
Oneonta is proud to kick off the spring semester with one of its most anticipated events, The Red Dragon Reading Series. The series has three planned authors coming to visit SUNY Oneonta and discuss their work with students. For the first installment of the reading series this semester, we had talented author Tessa Yang come to our school.
On Wednesday, Feb. 15, students and teachers gathered in the Morris Conference Center for the exciting night ahead. English Professor George Hovis opened the event, expressing his gratitude for the support from President Alberto Cardelle, the Red Dragon Reading Series Community, and Dr. Suzanne Black of the English Department. According to Hovis, Tessa Yang is an author from upstate New York. Her short fiction is forthcoming in The Magazine of Fantasy and Science Fiction, CRAFT, and The Cincinnati Review. She's also an assistant professor at Hartwick College. The Red Dragon Reading Series will be promoting her new book "The Runaway Restaurant", which was published last October. Hovis called her debut story collection in "The Runaway Restaurant", "Speculated fiction at its best. Smart, tender, tough, full of verbs, line after lyrical line." Hovis predicts it'll make you laugh, cry, and see magical possibilities.
When Tessa Yang was brought to the stage, she decided to read something that wasn't from her upcoming release. She pulled out The Flash Fiction America, which is the latest anthology of Flash Fiction from W.W. Norton where she has a passage included inside it. She read "The Weatherman's Heart", a story of kids who go a "little crazy" in the heat. Tessa Yang read her story in a calm and narrative voice that captured the audience's attention.
After Yang finished, she turned her attention to The Runaway Restaurant and felt moved to read the story, "Wonder In Her Wake", which she referred to as the story that almost didn't make it. "Wonder In Her Wake" is a beautiful story about nine-year-old Justin and his hoarding mother Francis. The story's themes surround imagination, innocence, love, and acceptance.
Yang explained her original idea for "Wonder in Her Wake" was based on the 2017 Lake Ontario flooding. "I got this idea to write a story about Lake Ontario flooding and all these lake monsters came out of the lake. And as you noticed, no lake monsters." Yang went on to explain that Justin would've been a 40-year-old widower with kids and had to ask his estranged-witchy mother to move in to help raise them. She explained that as she was writing it, she couldn't make the story go anywhere, feeling stuck. It was one of those creative decisions where she had to step back and remember what really mattered in this story. And that was Justin's relationship with his mother.
Curious to know more about Tessa Yang and her work? Find her online at www.tessayang.com.