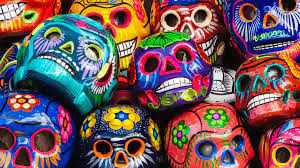 Lara Murray-Sterzel, Staff Writer |
Like any holiday, Oneonta acknowledges and celebrates it with students as much as they would with their own families. Being away from your family during a holiday is hard, especially when it's a family tradition. Without family, some may not feel festive nor want to celebrate at all. Knowing this, Oneonta wanted to give students the chance to still celebrate, but in a different way. The Hispanic Organization for Learning Advancement came together with the Africana and Latin-X Studies Club and College Assistance Migrant Program on campus to host an event in the honor of Día de Los Muertos, also known as "Day of the Dead."
On Tuesday, Nov. 1, the clubs created an ofrenda, a small personal altar honoring the dead, in the International Lounge in Hunt Union. It was decorated with skulls, flowers, foods, candles, and pictures. Día de Los Muertos is a Latin American holiday originating from Mexico which celebrates the lives of the deceased. The legend is on Día de Los Muertos, the dead rise from their graves to celebrate with their loved ones. Celebrations are varied in the Latin American cultures based upon different religions, foods, drinks, music, and activities. During the day, families gather in the streets to enjoy the daily festivities of face painting, parades, and games. Popular symbols associated with the holiday are skeletons and skulls. People paint their faces, make dolls, and have parades in their honor. At night, families visit their loved ones in the graveyard. They clean the tombstones and proceed to decorate them with their belongings.
The Hispanic Organization for Learning Advancement convinced Spanish teachers to encourage their students to write a Spanish eulogy about family members, celebrities, and even pets. Their eulogies were put up by the ofrenda for people to see. In the evening, a presentation was given about the holiday's origin and the cultural importance it serves to students who attended.
This bright and festive holiday has been celebrated for 3,000 years, and it brings a sense of community with it, which is something Oneonta thrives to create on campus. The Hispanic Organization for Learning Advancement, the Africana and Latin-X Studies Club, and College Assistance Migrant Program teaches students why we shouldn't close ourselves off to diversity and the importance of mingling with different cultures.
With the construction of the altar, creation of the eulogies, and monumental celebration, people would agree they enjoyed Día de Los Muertos here at Oneonta. That said, diversity and inclusion will remain strong in our growing community and provide students opportunities to learn more about the world around them.