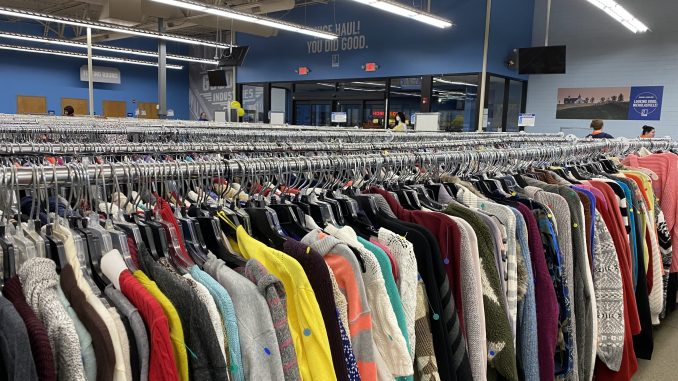 Lara Murray-Sterzel, Staff Writer |
The Red Dragon Closet has a new clothing line in their shop this month. Located in the basement of Netzer Administration, the new clothing drop allows students to go thrift shopping on campus. Whether you're looking for fancy button-down shirts or casual clothes, the general store has everything you're looking for. The clothing racks are all hand selected items from donations Oneonta students have chosen for each season.  
On Wednesday, Nov. 2, the Red Dragon Closet opened its doors in hopes students would come to explore the new clothes for the season. The Red Dragon Closet is run by Oneonta students and their E-board. To help advertise the new clothes, the E-board members left clothing racks in the halls of Netzer to draw attention to the store's location. Once inside, you're surrounded by shoes, hats, shirts, jackets, coats, dresses, pants, scarves, skirts, and sweaters of many different sizes. The store even had a few costumes left over from Halloween!
"We get donations all the time but after Thanksgiving break, we usually get a lot of donations because people are cleaning out their closets and bringing it back up. So, when they're cleaning out closets or switching seasons, more donations come into the store," said Grace Witkowski, the Store Manager and member of the E-board. With all the clothes they get in, one can't help but wonder if the store ever has a popular item or section: Grace Witkowski replied, "The T-shirts do pretty well, I would say. We're always switching those out. I feel like the seasonal rack that we usually put outside, which is like fall clothes, does well. But I'd say the T-shirts do the best." Witkowski went on to say they're busy at the beginning of the year when students are excited to be back, but normally the store's pretty steady. To keep things upbeat, they switch clothing out and replace them with new during the semester.
When Witkowski was asked why the store promotes a clothing drop during the semesters, she believes it reminds students about how fun thrifting can be and how free we can be in our clothing. "I feel like a lot of people can forget that we're down here. So, the drop is a way to get some more 'traffic' down here. We're constantly going through donations, so it's a way to drum up excitement for the store," said Witkowski.
The Red Dragon Closet is open on Tuesday through Friday at 12 to 4 p.m. The pricing is pay what you can, having suggested pricings available. The store strongly encourages you to come and check out their new clothing this semester.