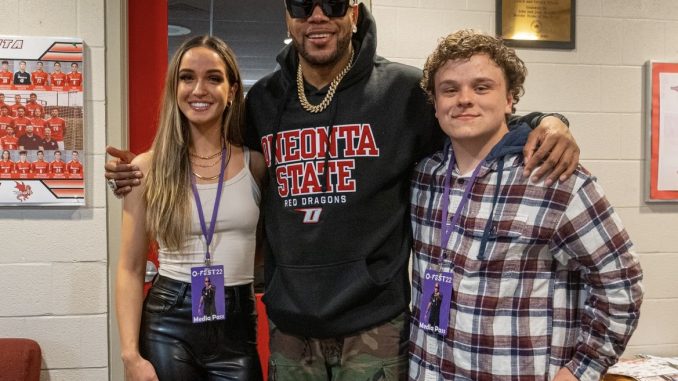 Andrew Dawson and Ashley Hopkins, Editor-in-Chief and Culture and Business Editor |
SUNY Oneonta held their OH-Fest concert on Apr. 30, featuring student band Rib and the Bones, The Little Mermen, and Flo Rida. SUNY Oneonta's OH-Fest is a tradition dating back to 2006 but hasn't happened in over three years due to COVID-19 restrictions. While not having a concert for the last few years may have been frustrating for our Red Dragon students, the 2022 OH-Fest was worth the wait. SUNY Oneonta's 2022 OH-Fest festivities helped bring our entire campus community together for one special event that may be the greatest concert held by SUNY Oneonta.
The festivities began with a carnival on campus at 1 p.m. which sold carnival food and had free activities ranging from ziplining to riding a mechanical bull. While the main attraction may have been the swinging chairs ride, a fan favorite for our Red Dragon students was the butterfly garden. Some of the other activities at the carnival include giant games, Spikeball, and KanJam.
The concert started at 6 p.m. at the Alumni Field House with the opening act and O-Factor winner Rib and the Bones. Rib and the Bones is a student band featuring four young talented musicians Mirabella Phinney, Tyler Tompkins, Chris Alvarado, and Mia Abazis.
After Rib and the Bones got the OH-Fest party started, the next band to perform on stage was The Little Mermen. The Little Mermen is a Disney cover band that performed some of our all-time favorite childhood songs. While some people may consider it strange to have musicians dressed as Disney characters such as Woody from Toy Story and Ariel from The Little Mermaid perform for college students, listening to their music gave everyone a feeling of nostalgia and allowed our Red Dragon students to reminisce over some of their favorite childhood songs. The Little Mermen even encouraged the audience to sing along to certain songs including, We Don't Talk About Bruno, The Bare Necessities, and Let It Go. Let It Go was the final song they performed which helped get the audience on their feet for OH-Fest's main attraction, Flo Rida.
Before Flo Rida came on stage, the lights dimmed, and the crowd fell silent. However, Flo Rida's DJ came on stage and started ramping up the audience. He started chanting, "When I say Flo, you say Rida," and after a few minutes of the crowd chanting his name, his hit song Good Feeling started to play, and Flo Rida ran on stage. From that moment on, the crowd atmosphere was electric, singing along to his songs and waving their glowsticks in the air. Though, the fun didn't stop there as he sang all of his hit songs while being accompanied on stage by two fantastic backup dancers and a young musician called International Nephew.
He continued the concert by performing some fan-favorite songs such as the Club Can't Handle Me, Wild Ones, Whistle, and My House. Every one of the songs he performed didn't miss and had the crowd singing and dancing along to the beat. Though, one of the coolest things he did in his performance was bringing some of our Red Dragon students on stage to sing and dance with him. First, he invited some of the female audience onto the stage for certain songs like Low and Where Them Girls At. And later in his performance, he brought some of the male audience on stage to sing GDFR. Later in the concert, Flo Rida even climbed on a security guard's back and walked through the crowd.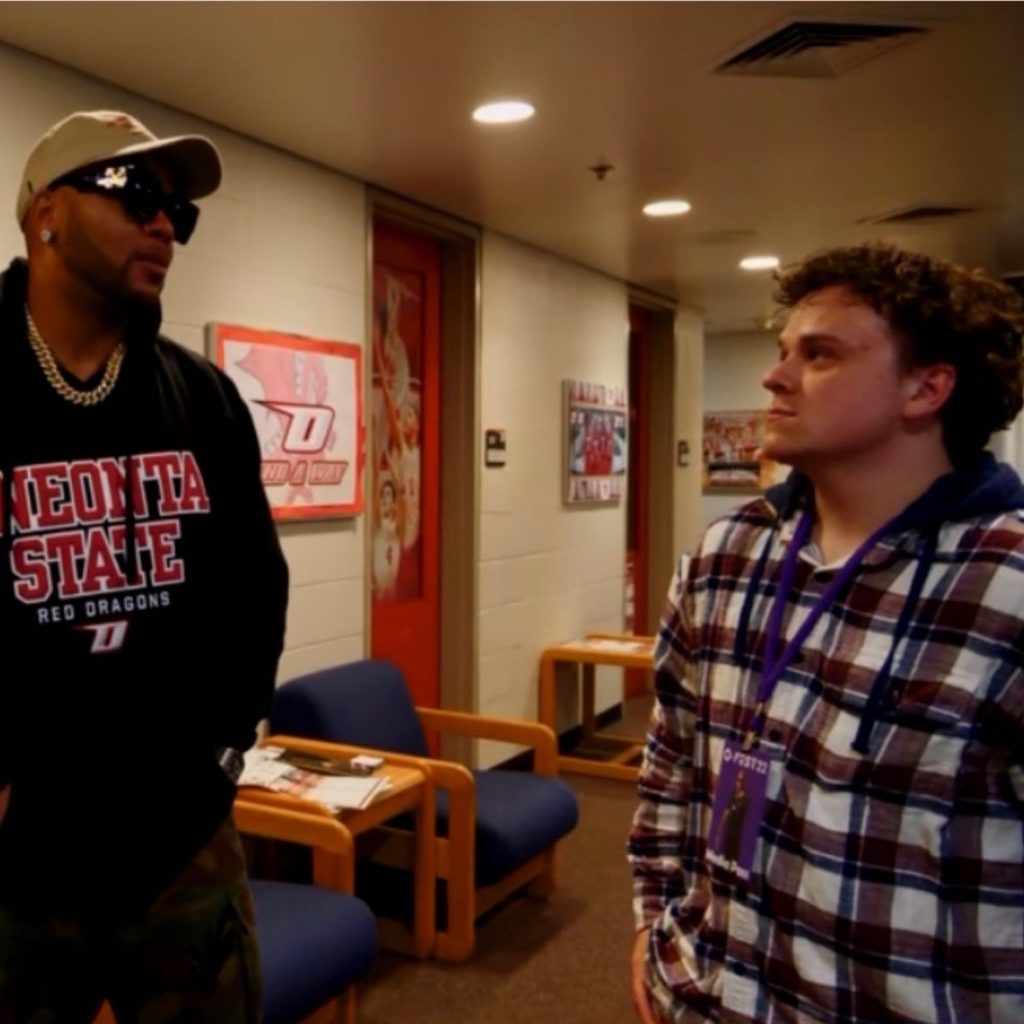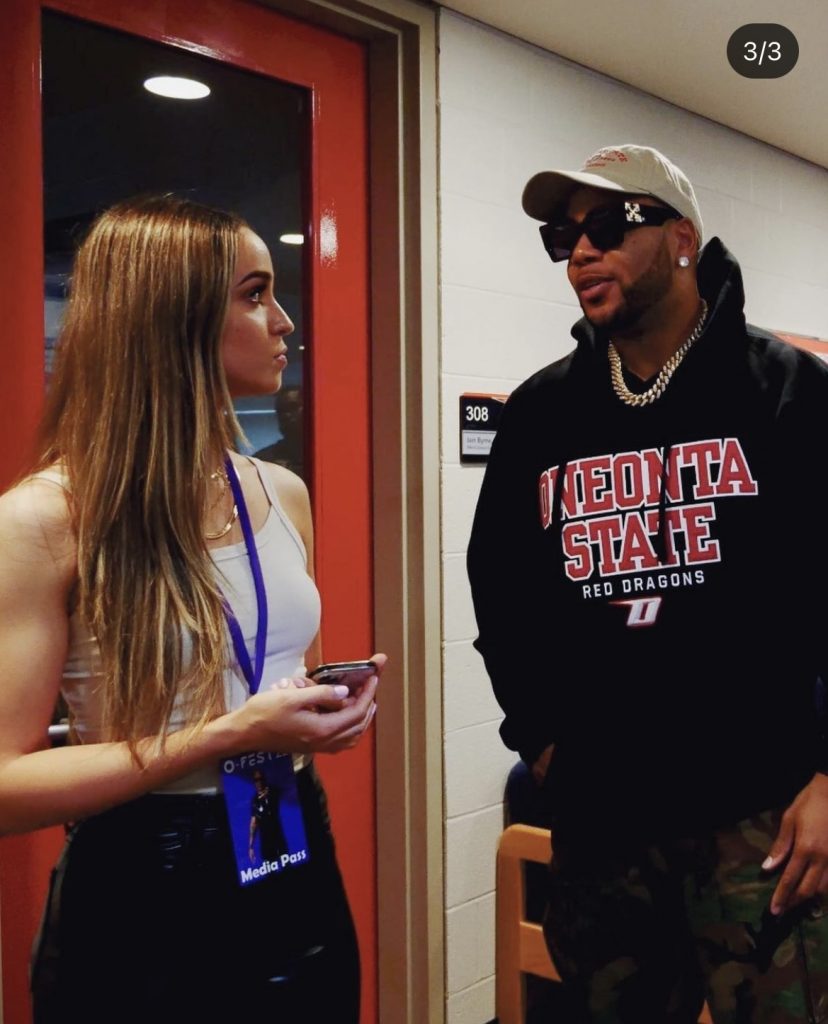 After the concert concluded, State Times Editor Ashley Hopkins and I had the pleasure of interviewing Flo Rida backstage. Hopkins asked Flo Rida what inspired him to start creating music and he said, "My entire family is in music. My sisters have a gospel group and a couple of my friends were recording professionally. I was a tag along with them one time and that's really what inspired me to do it." When asked what advice he can give to our Red Dragon students, Flo Rida Said, "Oh man, you know whatever you're trying to do in life maximize it. Make sure you're disciplined and put God first because there are going to be some faith challenges that accompany it." Flo Rida later said that he will continue touring across the world and watch him host American Idol next season!