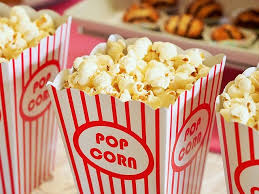 Kyora Wallace, Staff Writer |
Now I'm going to be honest here, sports movies are not my preferred genre. Not because I have a personal vendetta or anything, but because very few of them have caught my eye. But to be even more honest, I have never seen a sports movie that I thought was bad. Sports movies are very often heartfelt and motivational. So, let's take a look at my favorite sports movies.
3. I, Tonya (2017)
I, Tonya is a biopic documenting the rise and fall of the infamous figure skater, Tonya Harding. You don't need to be a die-hard ice-skating fan to fall to love this movie. I think the highlight of this move lies less in the sport and more in the life of Harding. Played by Margot Robbie, Harding has a hard upbringing, followed by an even harder marriage that affects her life and career. Performances by Allison Janey (Harding's mother) and Sebastian Stan (Harding's husband) help convey the abuse Harding has suffered. The movie also does a good job of showing just how toxic competitive sports can be.
2. A League of Their Own (1992)
I watched this movie for the first time for a class, and I ended up loving it. The movie is about the first all-girls baseball team starring Tom Hanks and Geena Davis. It follows a sibling rivalry between Dottie (Davis) and Kit (Lori Petty) that end up joining a professional team coached by a drunk, Jimmy Dugan (Tom Hanks). This movie is so empowering; I was ready to start a baseball team of my own. The team is made up of different ladies who we get to know throughout the movie. Aside from defying all odds and expectations of an all-girls team post World War 2. This movie was beautifully done, from the cast to the cinematography, and to the message that they portrayed.
Before I get into my favorite sports movie, I think we should dip into some honorable mentions. The first honorable mention is Blades of Glory, my second ice skating movie. Starring Will Ferrell and Jon Hader, this movie is great. It's one of my favorite Will Ferrell movies because he and Hader are hilarious in it. Chazz Michael Michaels is a surprisingly complex character. Another honorable mention is The Game Plan. The story of the bigshot who has his life turned upside down is a tale as old as time. It's about star Quarterback Joe Kingman (Dwayne "The Rock" Johnson) struggling to navigate his lavish life as a football star and fatherhood when he meets the daughter Peyton that he never knew he had (Madison Pettis). There are scenes of Johnson doing ballet and Pettis doing football drills. We get to see Johnson go from rich jerk to a decent dad, and that transformation is heartwarming
1. Bring it On All or Nothing (2006)
Out of all the Bring it On movies, this one is my favorite. It's a cheerleading movie that follows Brittney Allen (Hayden Panettiere); at the height of her cheerleading career, she must start over and change schools. She makes a promise to never cheer again, but things get complicated once she joins a rival cheer team. The best way I can think to describe this movie is iconic. There's a great cast, a great storyline, and Rihanna. What more can you ask? This movie has a great message about keeping an open mind to new experiences and people. I won't say much because I don't want to spoil it but if you haven't seen it already, watch it immediately!