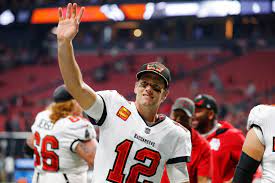 Casey Ryder, Staff Writer |
After a remarkable 22 seasons, Tampa Bay Buccaneers quarterback Tom Brady has decided to retire from the NFL.
Brady made the announcement just over a month ago on his Instagram saying "I have always believed the sport of football is an "all-in" proposition – if a 100% competitive commitment isn't there, you won't succeed, and success is what I love so much about our game. There is a physical, mental, and emotional challenge EVERY single day that has allowed me to maximize my highest potential. And I have tried my very best these past 22 years. There are no shortcuts to success on the field or in life."
Brady later said, "This is difficult for me to write, but here it goes: I am not going to make that competitive commitment anymore. I have loved my NFL career, and now it is time to focus my time and energy on other things that require my attention."
Brady leaves the sport with seven Super Bowl championships, the most of any player in league history, as well as five Super Bowl MVPs. On top of that he has won league MVP three times, NFL Offensive Player of the Year twice and he finishes his career with the most touchdown passes (624) and the most passing yards (84,250) in league history. It is because of this stunning resume that Brady is considered by many to be the greatest quarterback in league history.
In his statement, Brady said, "My playing career has been such a thrilling ride, and far beyond my imagination, and full of ups and downs. When you're in it every day, you really don't think about any kind of ending. As I sit here now, however, I think of all the great players and coaches I was privileged to play with and against – the competition was fierce and deep, JUST HOW WE LIKE IT. But the friendships and relationships are just as fierce and deep. I will remember and cherish these memories and re-visit them often. I feel like the luckiest person in the world."
Brady's retirement has understandably garnered so much attention from across the football world. In particular, former Indianapolis Colts and Denver Broncos quarterback Peyton Manning released a statement saying, "Congratulations to my friend Tom on an unbelievable football career. To do it as long as he did, at the highest of levels is absolutely incredible. It was an honor and a privilege to compete against him on the field, and I truly appreciate his friendship off the field. I have always admired and respected his competitiveness, his dedication, his discipline, and his commitment to being the best. I wish him the best in his next chapter. Congratulations again, pal!"
Another legendary quarterback, John Elway, chimed in on Twitter saying, "When I think about Tom Brady, he's a true winner who handled himself with class throughout his entire career. Even with those seven Super Bowl rings, he never lost that competitive fire to be the best. Congratulations, @TomBrady on a tremendous career!"
What is perhaps the most impressive thing about Brady; he continued to play at an elite level at 44 years of age. In a sport that is dominated by injuries with wear and tear on the body, that is amazing! Ultimately, it is because of his longevity and the long list of accolades that Brady possesses that makes him almost universally considered the greatest of all time!